Folk art motifs in the works of Transcarpathian artists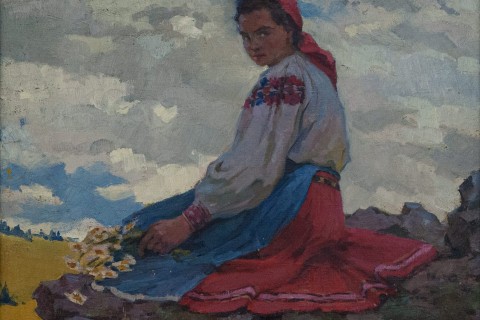 On 22 August 2019, in Transcarpathian Regional Art Museum named after Yosyp Bokshai, it was opened a large-scale exhibition of classics and contemporaries of the regional painting school dedicated to the celebration of Independence Day of Ukraine.
The curator of the event, art historian Olena Prykhodko, at the grand opening, shared with art lovers how the idea of organizing such an exhibition was born and embodied. She told that the idea of collecting works of Transcarpathian artists with motifs of folk art in one exhibit she had kicking around for several years. Works of the Museum of Art, the Transcarpathian Union of Artists and private collections were involved in the formation of the exhibition collection.
"As you know, goldwork (embroidery) is a sewing of gold threads," the curator continued, "but by the title "Goldwork Miracle" we meant the golden hands of our masters, the treasure trove created by the consummate artists of our land who were inspired by the generous variety of decorative and applied art. Our professional artists were inspired by the positive energy that folk art carried in itself; from its origins the famous Transcarpathian school of the fine art was born.
Artists have never considered works of folk art as objects of scientific research, trying to capture with documentary accuracy all the elements and local features of the subject. They have always created a complete artistic image, high-spirited and immersive. In their works, the artists tried to convey the beauty of folk art, to create symbolic generalized images of perfection, beauty, and harmony. After all, in every ornament there is encoded folk wisdom, worldviews, such as the tree of life or magical creatures, such as amulets from evil spirits."
Olena Prykhodko also drew attention to an interesting fact in the history of art, since the use of folk motifs by professional artists in her work began in the eighteenth and nineteenth centuries; especially it touched on sacral painting, where icon painters already depicted saints in national Hutsul garments.
The exhibition includes about 80 paintings by 51 authors, among them the famous names of the classics of the Transcarpathian School of Painting Yosyp Bokshai, Adalbert Erdeli, Fedir Manailo, Gabriel Gluck, Andrii Kotska, Yelyzaveta Kremnytska, Vasyl Habda, Viacheslav Prykhodko, Zoltan Sholtes and contemporary artists Nadiia Ponomarenko, Liudmyla Korzh-Radko, Odarka Dolhosh, Vlad Habda and many other famous artists. The exposition is also complemented by sculptures of wood and majolica of the national artist of Ukraine Vasyl Svyda, ceramic jugs of authorship by Endre Hidi and a model of Hutsul women's dress of the early twentieth century from the funds of the A. Kotska Memorial House-Museum.
The exposition has reached its main goal – the viewer can see our colourful land with the eyes of artists, enjoy the richness of culture and traditions of Transcarpathia and, while contemplating works with motifs of folk art, plunge into the past.
The exhibition will last until 18 September 2019.
Text: Liudmyla Kozlovska
Photo: Nataliia Pavlyk
© Art & Culture Foundation Brovdi Art