Exhibition by Frantsysk Erfan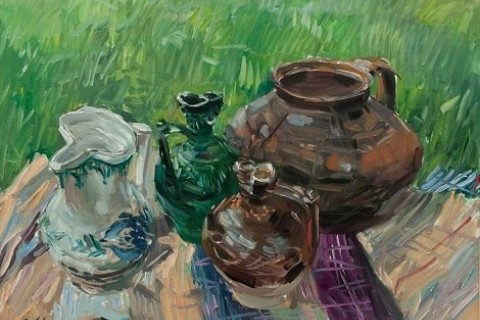 On 7 March 2019, in the exhibition space of the Transcarpathian Regional Art Museum named after Y. Bokshai it was opened the jubilee exhibition of works by Frantsysk Erfan.
The exposition has become a peculiar result of the artist's work over the past 5 years – just so much time has passed since his previous exhibition in Budapest.
The author is actively working in the field of oil painting. There are over fifty works in different genres: landscapes, portraits, and still lifes. Works selected in such a way as to present the artist's creativity as widely as possible. As the author notes, he chose the canvases scrupulously – he wanted to show the viewer the most characteristic and diverse works.
Frantsysk Erfan loves the plein air. Interestingly, there are not only the usual Transcarpathian mountain sceneries, but also marine painting.
The author notices: "There is no better teacher than nature. I really love our landscapes. This remains relevant for Transcarpathia, especially since we have a rich, beautiful land."
His works are distinguished by bright, warm colours and mastery of performance. By the way, the author pays attention to architecture as well; in particular, images of sacral structures of the region occupy a special place.
Still life as vibrant and sunny – mostly demonstrate the gifts of nature. A separate hall is devoted to portraits – here are images of people of all ages. Often the author tries to convey the national colouring of his countrymen.
The exhibition will last until 31 March 2019.
Photo: Nataliia Pavlyk
Art & Culture Foundation Brovdi Art