"Meeting of Generations" by ethnic Germans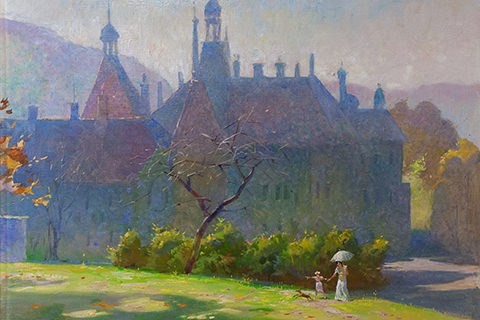 On 13 September 2018, in the premises of the Children's Art School named after Mihály Munkácsy (Mukachevo), it was opened an exhibition of ethnic Germans "Meeting of Generations", organized by the Association of Ethnic Germans of Ukraine.
Unusual for the Transcarpathian painting school works are of great interest to the viewers because they differ in both thematic content, colour, and style.
The participant of the exhibition, the chairman of the Art Club "Palette Spectrum" Oksana Metzher says: "Everyone presenting their work have German origins and thus grew up surrounded by German traditions and culture. Some family kept those traditions, others – not. Moreover, the exhibition demonstrates the creativity of the artists of three generations: the oldest participants are more than 70 years old and the youngest are still teenagers. That why it has such a name."
Participants of the exhibition are Germans from different regions of Ukraine. In particular, the artists from Kyiv, Mykolaiv, Bila Tserkva, Makiivka, Mukachevo, Khmelnytskyi, and Crimea. Their formation as artists took place in Ukraine but under the influence of German culture.
More than three dozen paintings depict not only thematic scenes from the life of national minorities but also architecture. Interestingly, this is not just a depiction of architectural achievements of certain regions, but places and structures that are close to German ethnicity. One can also see the architectural beauties of Transcarpathia, among which the estate of Schonborn, the Church of St. Martin and others.
The colouring of the German spirit can be seen in all the works thanks to the depiction of household things, folk costumes, traditions of the celebration of holidays and everyday activities.
The exhibition will last until 10 October 2018.
Text: Kseniia Shokina
Photo: Nataliia Pavlyk
© Art & Culture Foundation Brovdi Art