Exhibition to the Independence Day of Ukraine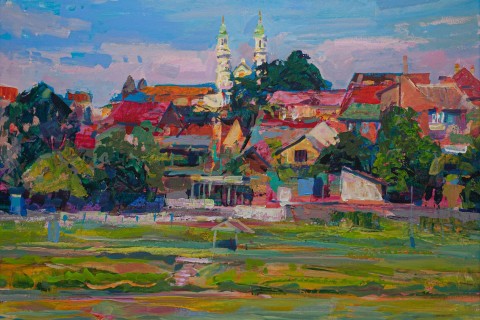 On 23 August 2019, in the gallery "Uzhhorod" it was presented an exhibition of members of the Transcarpathian organization of the National Union of Artists of Ukraine, dedicated to Independence Day of Ukraine.
There are 36 artists presented their works here; in total, the exposition includes more than 50 works.
The exhibition gathered not only works of art, but also sculpture – ceramics and wood by V. Vinkovskyi and V. Sochka.
As for painting, oil is predominant, as well there is acrylic, but more and more artists resort to the author's techniques – experimenting with textures, colours, and materials.
A genre of exhibition is no less diverse: visitors are greeted by still lifes, accompanied by landscapes and genre scenes, and in addition there are abstract works. According to the Chairman of the Transcarpathian Regional National Union of Artists of Ukraine Borys Kuzma, the authors had the opportunity to present the works at their own discretion. Most of the presented – new works of artists.
In particular, one can see the works of V. Mykyta, V. Habda, B. Kuzma, V. Vovchok, O. Hromovyi, T. Danylych, O. Dolhosh-Sopko, A. Pavuk, M. Peter and others.
The exhibition will last about two weeks.
Text: Kseniia Shokina
Photo: Nataliia Pavlyk
© Art & Culture Foundation Brovdi Art