EXHIBITION OF DIPLOMA WORKS OF GRADUATES OF TRANSCARPATHIAN ACADEMY OF ARTS IN UZHHOROD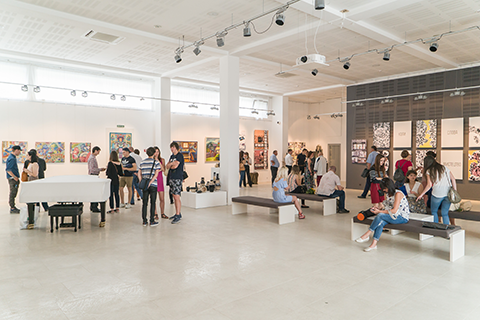 On Monday, June 26, 2017, in the Uzhhorod Art Centre "Ilko" it was opened a public defence and exhibition of diploma works of graduates of the Transcarpathian Academy of Arts The organizers chose a peculiar epigraph to the event: "When words lose meaning, art becomes real."
A total of more than sixty bachelors and specialists presented their projects in the genres of fine and decorative arts and design. Each diploma work consists of a project, a layout and an explanatory note to it: an author specifies the name, represents the project image and lists the materials from which the project is made (concerning the works of applied art).
The exhibition is dominated by the works of the graduates of Design Faculty, and the diversity of directions presented by them pleasantly surprises: there are projects for books design, web portals, recreation complexes, carting centre, landscapes, etc. "Projects on interior design, graphic design, painting, landscape design, as well as wood and metal processing - these are the main directions presented in the gallery. Now it happened that there were more students interested in design. However, a year does not look like a previous one, thus sometimes there are more painters ... But, in general there are interesting works, there are original searches and findings…" - the People's Artist of Ukraine, head of Transcarpathian Organization of the National Union of Artists of Ukraine Borys Kuzma mentioned during the exhibition.
Pleasantly amazing are the diploma projects of students studying "Decorative and Applied Arts" course. In some of them, even now, despite the young age of the authors, one can feel the depth and philosophical comprehension of the world (the project of exhibition character by V. Shtal "What are you afraid of?"). Three-dimensional plastic "Spring" (Yu. Zub), ceramic project "The Breath of Wind" (T. Zolotilina) attract by reasoning, balance and aesthetics. The theme of folk traditions and creativity is reflected in the decorative panel of the triptych bu V.Shyshola. Interesting are also the works of graduates of "Metal Processing" direction: it is obvious that one can also see a long and tedious work from the emergence of an idea to the implementation of the plan ("Corrida" by R. Haidelbacher, "Gothic" by M. Yudyk, "Megapolis" by A. Shtefaniak).
You can get acquainted with the exhibition of diploma works of graduates of the Transcarpathian Academy of Arts within two weeks - until July 9, 2017.
Text: Nataliia Petervari Photo: Robert Dovhanych