EXHIBITION DELIRIUM OF MYKHAILO ILKO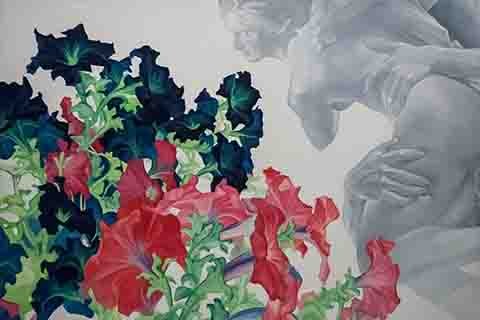 On 12 January 2018, at the ILKO Gallery, it was opened the exhibition of Mykhailo Ilko titled Delirium.
The exposition occupies both floors of the contemporary art centre and is represented by a series of works performed at different periods, in particular, in 1995 and within 2015 - 2017. That is, the works are created with a twenty-year break.
Mykhailo Ilko was born in Tiachiv in the family of the famous Transcarpathian artist Ivan Ilko. He grew up in Uzhhorod, studied at the Uzhhorod Art School of Applied Arts and Kyiv State Art Institute. He lives and works in Kyiv.
The personal exhibition of the artist, presented in Uzhhorod, includes about 30 works, which are thematically divided into two parts. On the first floor of the gallery there are portraits, still lifes, landscapes, sketches – these are recollections of Bedevlia village in Tiachiv region which is very close to the author. There are apple orchards, old church bell and grandmother's tablecloth on the photographs and canvases… Every work involves some special story, certain reminiscence.
In the hall on the second floor, there are works under the general name Delirium, which means delusion in Ukrainian. The author says that it is actually the very delusions – works that reflect the world and attempts to understand it. Here you can see paintings-allusions to various things and compositions, in particular, to Strauss and Marquez. Emotional and deep is the series of works dedicated to the wives that lost their heroes.
A triptych, created back in 1995, deserves a special attention. "This is a series of works created in connection with the significant changes in life – the birth of children. I was scared and I wanted to paint such an amulet. This is a story about who we are, what we do and how scared we are in our lives," Mykhailo Ilko shares.
In the very centre of the exhibition hall, there is an installation: the rectilinear trees, behind which there is a source – edelweiss. It is a peculiar symbol of what we do on our own.
Head of the Transcarpathian branch of the National Union of Artists of Ukraine Borys Kuzma noted that he discovered Mykhailo Ilko for himself as a painter and sincerely congratulated his fellow countryman: "I want to say that this is a person who deeply immersed himself in art, who is looking or maybe already found his own way of expression. Painting really impresses from the first moment. The exhibition is distinguished by its scale and composition."
The exhibition of Mykhailo Ilko Delirium will last until 4 February 2018.
Text: Alyona Onda
Photo: Nataliia Pavlyk, Nataliia Bodnar