Exhibition "The Feeling Of One Family"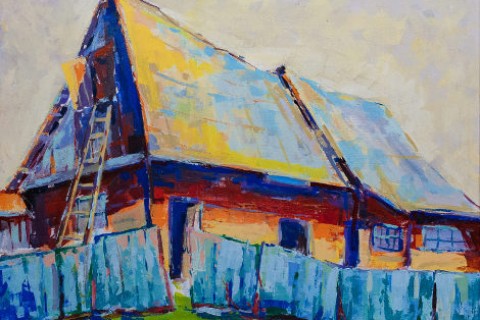 On 15 June 2018, in the exhibition space of the Mukachevo Castle Picture Gallery "Palanok" it was presented a collective exhibition of works by Ukrainian and Hungarian artists.
The exhibition "The Feeling Of One Family" with the same name as the work of Ukrainian poet Pavlo Tychyna. In such a way the organizers tried to show that Ukraine is large and varied, however, despite everything, it is one family, regardless of what people of what nationality live in it.
"I want to talk to Europe in one language, the language of art," says the organizer of the exhibition, the head of the Charity Fund "Art Commonwealth "Today" Yurii Dik. Regardless of where you are and who you are, we are people of the same land. Every nation must feel and know that we are all friends, family. Each of us is responsible for our actions before humanity, before the universe. "
The authors of the works are artists from different parts of Ukraine, as well as Hungarians of Ukrainian descent. The exposition includes more than seven dozen works performed in different styles and genres – mostly these are landscapes, but there are several still lives. Towns and villages, mountains and polonyna are in front of the viewer. The architectural heritage of the country presented on the painting as well.
It is worth noting that works are composed in a coherent composition, therefore, there is an idea that the artists created them during the joint plein air. But in fact, the artists worked independently of each other.
Art critic Attila Kopryva at the opening of the exhibition said: "Ukraine is the only one. And although different national minorities live here, they all create such a multifaceted and unique mosaic of our Ukrainian culture – variety and original. The exhibition proves this by its diversity. "
The exposition will last until the end of June.
Text: Kseniia Shokina
Photo: Nataliia Pavlyk
© Art & Culture Foundation Brovdi Art