EXHIBITION "INFINITY OF EVOLUTION" BY ANTON AND OLHA KASHSHAI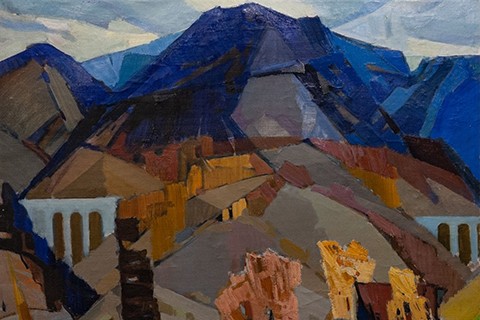 On 18 May 2018, in the exhibition space of the Picture Gallery at Mukachevo Castle "Palanok", it was held an exhibition of works by the classic of the Transcarpathian school of painting Anton Kashshai and his granddaughter Olha Kashshai.
The exhibition name "Infinity of Evolution" is symbolic – they tried to demonstrate the development of the Transcarpathian school of painting and the fact that its tradition is not severed, it is evolved. "The name asserts: the tradition lives at any stage. The tradition of the Transcarpathian school is alive. Transcarpathia is living now, pulsing, it is dynamic and makes the weather at the Ukrainian level. Art lives from classic to contemporary forms," an art historian Olena Kashshai says.
The exposition includes more than 70 paintings and clearly demonstrates the contrast between the works of the classic and the contemporary artist. As Olha Kashshai noted at the opening of the exhibition, "... Never in my life, I could have thought that our works would be exhibited together. But this exhibition is to show the audience that I'm looking for my own way, my work is different because it's impossible to repeat the unique one."
Indeed, Anton Kashshai was one of the ten best landscape painters of the Soviet Union and the exhibition proves that it was quite deserved. The works of the artist are now stored in the well-known art galleries and private collections.
The peculiarity of the exhibition is that the presented works of Anton Kashshai were taken from the private collections, so an ordinary viewer will probably not be able to see them again. Here, for example, there are Norwegian landscapes, special by colour and style of performance, they are included in the exposition quite rare. In general, presented are the works of different periods of creativity – from the first professional samples until the 80s, and thus it can be seen the difference in the style of the classic's performance.
"At each new stage, his creative style was very different, he was in constant search. The exhibition shows solid tonal works of the 50s, contemporary works of the 60s, colourful and vivid paintings of the 70s and avant-garde searches of the 80s," Olena Kashshai says.
In Olha's creativity, one can also see searches, tries in various styles – the artist is working on her own style.
"Olha Kashshai is a follower, but her style is different, she represents a new generation of artists. Her searches are more avant-garde, contemporary and dynamic, but the Transcarpathian tradition is clearly traced in them," Olena Kashshai emphasises.
The exhibition will last for two weeks.
Text: Kseniia Shokina
Photo: Nataliia Pavlyk
© Art & Culture Foundation Brovdi Art