EXIBITION OF ANDRII KARTASHOV "ERA OF MERCY. REALISM 21"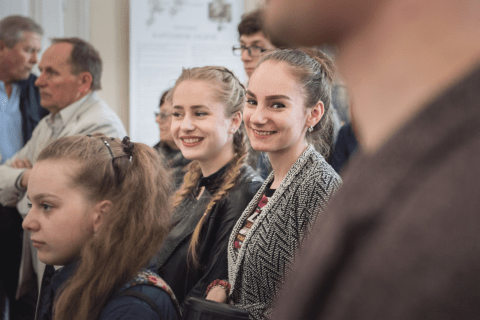 On April 26, 2017 in the Transcarpathian Regional Art Museum named after I. Bokshai it was opened an exhibition of paintings of Andrii Kartashov, a graduate of Uzhhorod College of Arts and St. Petersburg Academy of Arts.
The material of the exhibition titled "Era of Mercy. Realism 21" was unexpected and controversial, gave rise to ambiguous and sometimes polar judgments. The highest level of mastery of the artist was showed by his monumental formats of the human figure in the spirit of St. Petersburg school, and a number of portraits in which the author skilfully moves from detailed painting of the head to the background, filled with free broad strokes.In the main hall, the audience met indestructible Schwarzenegger on the large canvases and several plots of mass culture character.
The author of exhibition in his speech proved his concept, according to which the realism (in this case, professional academic preparation) is able to express a lot and is suitable for interpreting any phenomena of the present, including the mass culture brands. Next to the idol of body building, Kartashov's self-portrait (who is also an adept of this sport) prevails thanks to the certain trust and openness to the viewer.
The exhibition leaves open a question about the use of academic experience during the art formation, as well as about search of your own subject, plots, objects which are coordinated with technique, and lead to your own art language. In any case, the artist dared to held large personal exhibition, and making this step he certainly will gain additional incentive in his creative path.


Text: Mykhailo Syrokhman
Photo: Robert Dovhanych