EXHIBITION OF WATERCOLOUR "4+1" IN UZHHOROD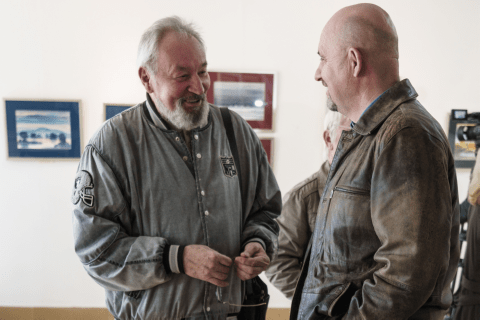 On 24 March the exhibition of watercolour that had been spoken about for so long was opened in "Uzhhorod" gallery. 
Here it had been always represented nice watercolour painters, but they were demonstrated only at the graphic art exhibitions among the graphic works and paintings. And now it happened at last - the watercolour painting with water colours dominating at the gallery hall. The exhibition is called "4+1", that is four Transcarpathian artists were joined by Andrii Smolak, a Ukrainian from Slovakia (watercolours of several soft tones). Our artists are Vasyl Skakandii, a classic of wet-in-wet technique (a splendid series of tonally perfect landscapes + two portraits), Liudmyla Korzh-Radko, a classic of recherche stylistics (refined figurative compositions + city scenes in unexpected colours from dreamland), Petro Feldeshi, a classic of ''neofolklorism" and symbolism (feast of colours and composition, stunningly perfect grainy texture), and Borys Kuzma (tonally united graphic contrasts). The format of the event was reasonably successful. It is really better to begin with representing a greater number of works of the major watercolor painters, to more clearly depict the manner of each of them, and create expositional integrity, than to give one or two works of numerous authors and to break the integrity. In general, the exhibition is certainly prosperous. We want to believe, that watercolour exhibitions will soon become usual, and pastel will turn next...

Text: Mykhailol Syrokhman. Photo: Oksana Yurchenko