Виставка акварелей у Закарпатській ОДА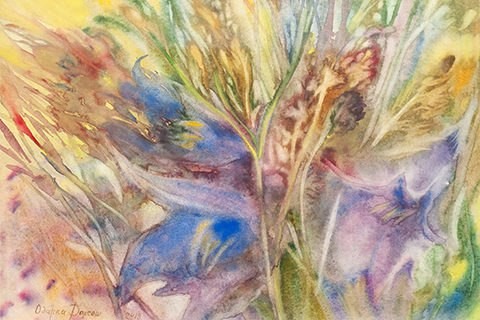 On 8 November 2018, in the hall-atrium of the Transcarpathian Regional State Administration it was held an exhibition of works of Transcarpathian artists. All the works combined with the technique of execution – this is a watercolour.
Unjustly forgotten watercolour came to life in the walls of the Regional State Administration. Three dozen works will take the viewer to the cosy streets of Transcarpathian cities, let you feel the greatness of the Carpathian landscapes and the blue of the endless sea. There are still lifes, as well as abstractions. Some authors have presented several works combined in series.
Different seasons and moods are presented here. Watercolour allows making paintings light and pleasant to the eye. Thus, the bright spring landscapes of Mariia Kopanska are echoed with the cold landscapes of Vasyl Kohutych, Yaroslav Dulenko, and Vasyl Skakandii. And Olha Lukach's works are distinguished by warmth and sunshine in her still lifes.
Not all authors are members of the National Union of Artists of Ukraine. Young and ambitious artists presented their works here as well. In general, the exposition includes works by Nataliia Myronchuk-Didyk, Tetiana Ivanytska, Odarka Dolhosh, Liudmyla Korzh-Radko, Vasyl Skakandii, Pavlo Kovach, Vasyl Kohutych, Oleksii Fedor, Yaroslav Dulenko, Mariia Kopanska, and Olha Lukach.
Photo: Nataliia Pavlyk
© Art & Culture Foundation Brovdi Art