VIKTOR ANDRIANOV PRESENTED THE EXPOSITION OF "FOLK MELODIES"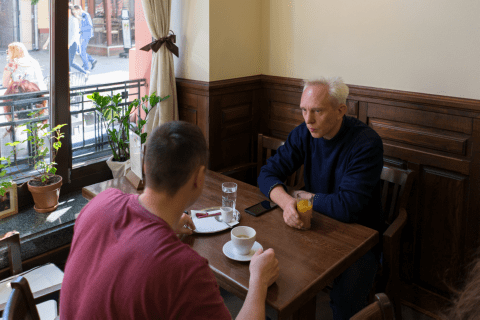 The exposition of graphic works under the title "Folk melodies" by the graphic artist Viktor Andrianov was opened in Uzhhorod in the art cafe "Voto". More than a dozen works are presented to the visitors of the institution in an interesting design solution.
The artist was born in 1967 in Perechyn, he studied at Uzhhorod College of Applied Arts at the Department of Art Wood, under the direction of Yosyp Pal, Yosyp Bachynskyi, and Ivan Manailo. Along with artistic education, the artist received musical education-from 1974 to 1982 he studied at the Musical School in Perechyn and in 2011 he graduated from the Transcarpathian Art Institute, Department of Interior Design. As a result, art, design, and music had a significant impact on the artist's work, moreover, music even formed the basis for numerous of his graphic works, including those exhibited in the art cafe. In particular, one of the works is actually a transformation in the artistic sense of the piano keyboard, stave. The grid, which arose as a result of a combination of these two ideas, actually formed a folk ornament dominating in every work. In parallel, in each work the artist uses traditional motives of different nationalities - Gypsy, Ukrainian (actually Transcarpathian), even Scottish.
In his works the artist uses the colour spectrum inherent in folk art, folk ornaments. Golden shades, generously used by the author, add to work on the one hand the wealth, on the other one - depth, sensuality. All the presented works are executed in the technique of graphics: the author uses cardboard, markers, tempera, etc.. "Some of the works are presented as op-art (optical art), and I would describe all the works in general as belonging to such styles as symbolism, constructivism, even modernity," – the artist commented himself.
The exhibition will last throughout May of this year.
Text: Nataliia Petervari
Photo: Robert Dovhanych