Exhibition of Serhii Biba in Kosice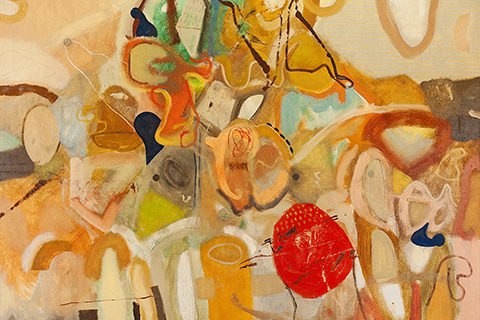 On 9 October 2018, in the historic hotel Bankov of the Slovak city of Kosice, it was opened a solo exhibition of the Transcarpathian artist Serhii Biba. The exposition, held with the support of the Consul General of the Slovak Republic in Uzhhorod Miroslav Mojzhita, is represented by the well-known Kosice gallery Veba. Its founder Dusan Balaj is also the curator of the exhibition.
Serhii Biba is a Transcarpathian painter, graphic artist, member of the National Union of Artists of Ukraine, laureate of the Regional Prize named after Y. Bokshai and A. Erdeli. The artist works in the genre of painting, graphics and installation, experimenting with the shape, colours, texture, as well he is constantly in the creative search for new techniques, ways of expression. He is the author of almost ten personal exhibitions in Ukraine and abroad.
The exposition presented in Kosice is the second solo exhibition of the artist this year. The first joint with his son was held in the premises of the Consulate General of the Slovak Republic in Uzhhorod. Close co-operation with the diplomatic institution continued and resulted in an opportunity to acquaint the Slovak audience with the artist's creativity more widely.
All 53 submitted works are executed in an abstract style. Created in different periods of time, they respectively reflect the perception of the artist at each stage of creativity, his thoughts on various topics, his searches and findings. "One can say that this is a kind of retrospective exhibition. I offer to the viewers the works performed in different years, thematic works, in particular, there are works from the series "Surface", "Offsets" and others," Serhii Biba told. Slovak art admirers can see five paintings completed literally on the eve of the exhibition. They are exhibited for the first time.
According to Serhii Biba, this exposition in Kosice was planned long ago, five years ago, but due to various objective and subjective factors, it was postponed. However, all the stars have recently aligned, and the exhibition has finally come to the discretion of the Slovak audience. Obviously, it was going to happen that way, because the Slovak art admirers took the event very well. During the opening ceremony, there were a lot of positive reviews.
"All creativity is a search. Our life is a constant process, movement, training," the artist says and admits that he has been already working on a new project, which he plans to introduce next year in Lviv.
In Kosice, the exhibition will last within two months, so, before the New Year's holidays, it will go to Trebizow and the capital of Slovakia Bratislava to be presented in 2019.
Text: Nataliia Petervari
Photo: Nataliia Pavlyk
© Art & Culture Foundation Brovdi Art