SPRING FANTASY BY OLENA KONDRATIUK AND YULIIA YEHOHOROVA-ROHOVA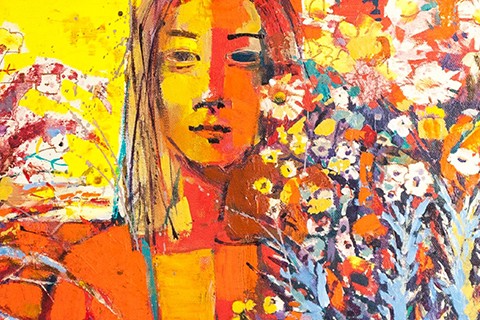 On 8 March 2018, in the Uzhhorod cafe Fanka, there was presented works by Olena Kondratiuk and Yuliia Yehorova-Rohova.
The artists dedicated their exhibition to women, spring, love...
Bright colours, tones and half-tones, sensuality and tenderness of spring reveal the canvases of the talented artists. According to Olena Kondratiuk, they deliberately tried to pick fragile female and girlish images, delicate floral still lifes, dreamy spring landscapes, made with oil. "In such a way, we help spring to come," says the artist.
For both masters, spring is associated with tenderness, femininity, ease. Thus, it feels the corresponding mood in the café – created by dozens of works. All of them are created either in spring or with the thought of it.
Yuliia Yehorova-Rohova, besides painting, also presented samples of ceramics, which, according to the author, has a spirit of prehistoric, eternal. "This is an attempt to combine ceramics and painting in one space. As for me, ceramics – a feeling of eternity, because such, at first glance, a usual material comes to life in artist's hands. In my works, I embodied the life of plant and tea stories," Yuliia says.
Spring vernissage will last at Fanka cafe for about a month.
Text: Kseniia Shokina
Photo: Nataliia Pavlyk
© Art & Culture Foundation Brovdi Art