"EASTER EXHIBITION" IN GALLERY "UZHHOROD"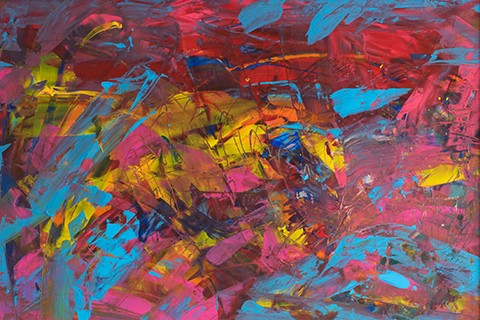 On 28 March 2018, in the gallery "Uzhhorod", it was opened an exhibition of works by members of the Transcarpathian organization of the National Union of Artists of Ukraine.
All the presented works are united by the theme of the Easter and were created over the last years.
Almost fifty paintings, made with oil, watercolour, gouache, ink, transfer a viewer to the Easter day, create a festive mood and let him feel spring with all his heart.
The exposition includes landscape, still life, scenes of religious content, figurative etc. – everyone will find here something he likes.
The exhibition is based on contrasts: hot colours in the works of Vasyl Bobita, Yuliia Yehorova-Rohova, Viktor Chepynets, are echoed with cold tones of works by Olena Kondratiuk, Vasyl Filesh, Volodymyr Pavlyshyn, and Ihor Lutsenko.
During the opening of the exhibition, the People's Artist of Ukraine Volodymyr Mykyta noticed that he tried not to miss any of art events in the city since each of them can bring something new and interesting for him. "It is worthwhile to visit new exhibitions for me. And this time, I also see a lot of interesting ideas and conceptual solutions", the artist emphasized.
The following artists presented their works: Y. Babynets, S. Biba, V. Bobita, Y. Bodnar, V. Vovchok, M. Holiakhnych, O. Horal-Trishchuk, M. Hresko, O. Hromovyi, I. Demian, V. Dub, M. Dufynets, Y. Yehorova-Rohova, I. Zhupan, P. Kovach, O. Kondratiuk, A. Kopryva, O. Kofel, B. Kuzma, I. Lutsenko, O. Malesh, V. Pavlyshyn, M. Pap-Malesh, M. Peter, R. Pylyp, L. Pryimych, I. Romaniuk, L. Slobodska, T. Usyk, V. Filesh, V. Chepynets, M. Suto, and S. Sholtes.
The "Easter Exhibition" will last until 13 April 2018.
Text: Kseniia Shokina
Photo: Robert Dovganych
© Art & Culture Foundation Brovdi Art