VASYL BOBITA PRESENTED HIS PERSONAL EXHIBITION IN UZHHOROD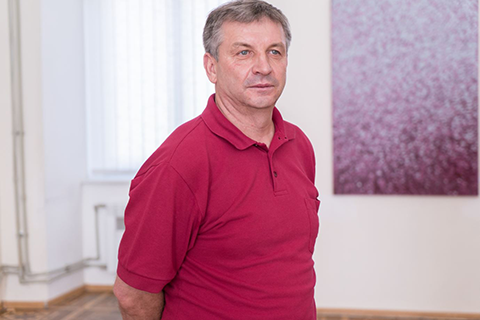 On August 11, 2017 in the Transcarpathian Regional Art Museum named after Y. Bokshai it was opened a personal exhibition of the artist from Irshava Vasyl Bobita. The artist presented to the general public a series of works he had been creating over the past few years.
56 works of the artist demonstrate different periods in his creativity. Basically, the works are done in oil and in mixed technique; the master bravely composes various materials to achieve his planned intentions. Via mixed techniques, the artist manages to provide a certain structural work, space and illusions of air. The artist boldly experiments with colours – they are powerful, sometimes contrasting, but his palette is always bright, saturated. The canvases are full of all paints and shades. The master works in different genres, he has many still lifes (although only a few are represented at the exhibition), landscapes and genre compositions. In his works, the artist seeks to unite different directions: "Abstractionism, impressionism, expressionism, and cubism are especially striking - it's difficult to combine, but I think it works. It's not for me to judge, it's for the audience,"– V. Bobita says.
Almost two dozen canvases – special projects – completely new, they are presented by the artist for the first time and written almost before the exhibition itself. These are the series "Creation" and "LOGOS". "The subject of the Logos is the theme of God's relation to humanity: works "Sacrifice For The Sin", "Purification", "Way Out From The Situation", "Rainfall", and "Justice". All these works are felt and passed through my inner world. I chose this technique for the simple reason because it gives more freedom, does not bind me with academicism, rules, I'm free and would like to show God's plan in such a minimal range,"– the artist says.
The exhibition of Vasyl Bobita will last in the Art Museum in Uzhhorod until September 11, 2017.
Text: Nataliia Petervari Photo: Nataliia Pavlyk