Exhibition of poster art by Volodymyr Karvasarnyi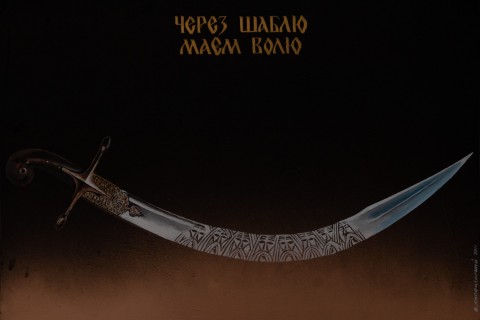 On 16 July 2019, in the Transcarpathian Museum of Folk Architecture and Life, it was opened a personal exhibition of works by an artist-graphics, painter from Khmelnytskyi Volodymyr Karvasarnyi.
Presented works are part of the exhibition "Facets of life", has already been shown in Lviv and Khmelnytskyi, and for the first time in Uzhhorod, as well as the author himself. Recently Volodymyr Karvasarnyi turned 70 and the current exhibition is to some extent a retrospective of the creative work since it covers the period since 1984.
The exposition contains 36 works, executed in the genre of the social and political poster, mainly gouache on cardboard. Here are most author's repetitions, because the artist's works immediately fill up the museum and private collections upon completion of numerous exhibitions.
The initiator of the exhibition was the Bishop of Uzhhorod and the Transcarpathian Ukrainian Orthodox Church Cyril. He invited the artist to visit our region and present works to the Transcarpathians that are examples of the national poster art. In his speech, Bishop Cyril spoke about his feelings, which in his soul caused the works of the artist, focusing on each of them in detail.
The conciseness of composite and colour decisions, expressions, as well as the accuracy of the broadcast of thoughts, cannot leave the viewer indifferent. The poster is made up of a clear visual formula for a message, a call for reflection and action. This was noted by artists Emma Levadska and Mykhailo Belen who were present on the opening day.
The themes of the works reproduce the vision of the artist and his reflection on the historical, socio-political, spiritual events of the 20th and early 11th centuries on the territory of our land. Volodymyr Karvasarnyi acts in his creativity not only on the principle of relevance, problem but also on the ideological value, the depth of the chosen theme. War, Love, Freedom, Faith, Self-identification, National Memory – this is an incomplete list of what hurts the artist who does not rest and does not leave him a passive observer. Among others, it amazes a series of works devoted to the problem of preserving the historical and cultural heritage: "We have – we do not take care, we lose it – we cry."
According to the artist Mykola Shafynskyi, "the role of the poster is especially important and great at the turning points of history. Poster always reflects the time in which to create and lives and feels the pulse of society. It must keep pace with the times; it is a guarantee of its success… The poster mobilizes thoughts and feelings of people, calls and convinces."
The exhibition will last for the month.
Text: Liudmyla Kozlovska
Photo: Nataliia Pavlyk
© Art & Culture Foundation Brovdi Art