Exhibition of Fedir Babynets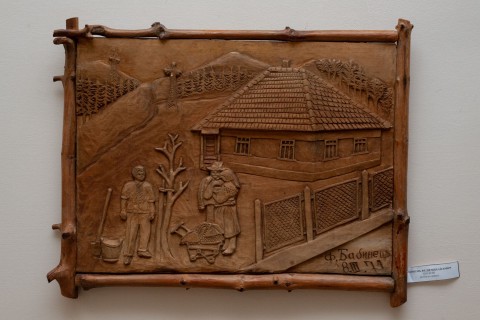 "Chronicle of the native land" – under such a title in the Transcarpathian Museum of Folk Architecture and Life, it was presented an exhibition of works by Fedir Babynets. In total, about two dozen works of different sizes are presented in the exposition. All works are wood carvings from the museum's stock collection.
Fedir Babynets was born on 22 February 1910 in Skotarske village of Volovets district in a poor family. As written in the annotations to the exhibition, for the difficult financial situation he was forced to leave school and work as a shepherd. And it was among the picturesque nature of Boikivshchyna that the first artistic tastes of the young man were born. F. Babynets began to engage in engraving and drawing at a mature age. However, in a short time in his creative biography, he created a significant number of artistic works. Among the works of the master, first of all stand out paintings, bas-reliefs, applied and decorative things made of wood and horns. By the time of creation, most of F. Babynets's works were in 1963 - 1974, that is, in the last decade of his life. Fedir Babynets died on 21 September 1974 in Volovets. Much of the creative work of the master is currently preserved in the Transcarpathian Museum of Folk Architecture and Life.
F. Babynets in his creativity uses the language of characters with naive expressive means, close to the decorative. The defining feature of the works of the artist is an expressive folklore orientation. Plots of the artist are the beauty of his native land ("Bear In The Den"), landscapes, as well as domestic scenes ("Washing On The Stream", "Edge Of The Forest", "The One Who Spins"), folk life in all its diversity ("Housewarming", "For Mushrooms", "For Grandson", "The Sanatorium "Karpaty") etc.
As art historians note, that the artist in his works successfully combines flat, relief, pro-carved decorative carving, relief plot images.
The exhibition will last at least three weeks.
Photo: Nataliia Pavlyk
© Art & Culture Foundation Brovdi Art