Pottery festival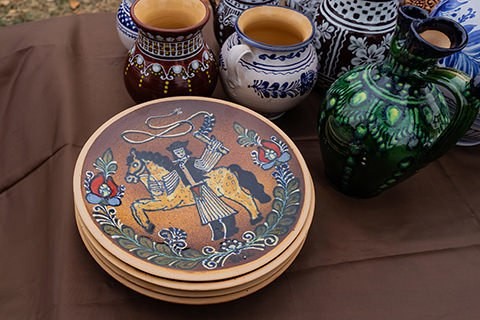 On 20 October 2018, at the Transcarpathian Museum of Folk Architecture and Life, it was held the first pottery festival. From now on, it is planned to take place annually.
Transcarpathian masters presented to the visitors their ceramic pitchers, bells, teapots, painted plates and numerous other objects of decorative arts. They also held a series of master classes: everyone who wanted could create a pottery product on his own.
In particular, there were works by Yuliia Yehorova-Rohova, Andrii Zubenko, Viacheslav Vinkovskyi, Olha Hal, Emma Levadska, Myroslava Rosul, Nelia Shandor, Oksana Meisarosh, Oksana Meshter, Mariia Polianko, Endre Hidi, Iryna Endryk, as well a master from Ivano-Frankivsk region Taras Hafiiv.
In addition, on the same day, on the museum's territory, it was opened a pottery studio where every visitor would be able to try himself at ceramics. It will work, according to the management of the cultural institution, regularly, but not daily.
Implementation of the grant project "Following the traditions of Transcarpathian ceramics" became possible thanks to the support of the Ukrainian Cultural Foundation. The project will cover a number of events, the pottery festival and studio opening are just the first of them.
Thus, prepared for publishing are the two books: a catalogue of pottery products from the museum funds of Vilkhivka and the pottery alphabet with the words relating to this art presented in a child-friendly form. At the end of the project, it will be held a scientific and practical seminar on the preservation and popularization of pottery in Ukraine as well as the exhibition of ceramics from the funds of the Transcarpathian Museum of Folk Architecture and Life.
The next festival is planned to be held in October 2019.
Фото: Нікітчук Олександр
Текст: Шокіна Ксенія
© Art & Culture Foundation Brovdi Art