A new mini-sculpture by Mykhailo Kolodko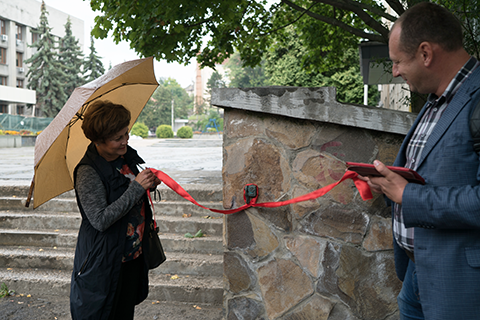 On September 17 2017 the regional centre of Transcarpathia witnessed the opening of another mini-sculpture of the talented artist Mykhailo Kolodko – thus the unique highlight of Uzhhorod was replenished with another figure directly connected with the city history.
of time managed to win the love of the city where he was born. Now, Uzhhorod is famous throughout Ukraine, including thanks to the project of this young artist – the city is famous for a series of mini-sculptures located in various, sometimes the most unexpected places. Guides even show them as one of the highlights of Transcarpathia to the guests of the region, after all, almost all such works are connected with the life of the city, its history, inhabitants.
Over the past few years, the master has created small copies of the Eiffel Tower, John Lord, Wolfgang Amadeus Mozart, Csontváry Kosztka Tivadar, Liszt Ferenc, Andy Warhol, Harry Houdini, Gabriel Gluck, Brave Soldier Svejk, the mini Statue of Liberty and many more. All of them are installed in Uzhhorod for a reason – every sculpture in one way or another concerns the life of the city, its history and its inhabitants. Let's say, Svobodka was confined to the entertainment festival "Uzhhorod Regatta"– it is not only equipped with an active beacon, but it is also the smallest copy of the world-famous statue. A sculpture of the world-famous artist Andy Warhol adorns the gates near the Transcarpathian Regional Art Museum named after Y. Bokshai for the fact that the artist had a Carpatho-Ruthenian origin.
Another mini-sculpture – a small phone called "hallom" (from Hungarian "I hear", from this word actually went "allo") – was opened on September 17 in Uzhhorod, not without reason as well: it was dedicated to the birthday of the inventor of the world's first telephone station – Hungarian Puskás Tivadar, whose wife lived in the city for a long time. The location of the sculpture is symbolic – it is attached to the foundation of the building, where the General Directorate of Ukrposhta is located, at Poshtova Square. The author put in his new creation another symbolic idea: thus, according to Mykhailo Kolodko, with whom we kept telephone communication during the opening of the sculpture (now the master lives and works in Budapest), "... from now on, where this phone is installed, one shall call his beloved and say "Hallom".
His original ideas Mykhailo Kolodko embodies not only in small forms. His authorship also includes large sculptures, such as: a monument to the lantern man Uncle Kolia and the victims of the Holocaust. In general, the work of the young and talented sculptor can be seen, except for Uzhhorod, in Mukachevo, Vynohradiv, Chernivtsi, Budapest, etc.


Text: Kseniia Shokina
Photo: Kseniia Shokina, Nataliia Pavlyk