"IN MEMORIAM" EXHIBITION DEDICATED TO THE 80th ANNIVERSARY OF FERENTS SEMAN WAS OPENED IN UZHHOROD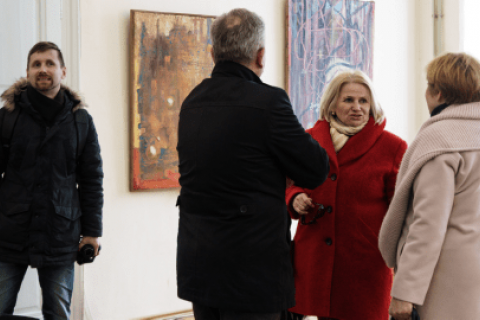 The "In memoriam" exhibition of the works of cult Transcarpathian avant-gardist Ferents Seman (1937–2004) is dedicated to the artist's 80th anniversary, celebrated, unfortunately, without the artist by his numerous admirers. 
The opening was held on the 17th March. Paintings of the unforgettable Öcsi adorned again the walls of the Transcarpathian Regional Art Museum named after Y. Bokshai. It doesn't happen often that the statement that the artist's soul flows, emanates from his pictures is so evident. You cross the halls and involuntary smile appears on your face, it seems you hear the voice of the artist and see the deep warmth of his eyes. Here he is, Seman, he did not disappear, and he is communicating with us by means of his art – the best means of communication he ever used. We recognize the works on the walls – the world trends interpreted in his own way – the Seman cubism, abstractionism and simply Seman, Seman, Seman: self-portraits, flowers, compositions. And moreover you feel the spirit of freedom and independence flowing from the walls, and the spirit of artistry and recusancy. And also the feeling of exalted enchantment, spontaneous lightness, and grotesque irony. The exhibition was natural enough supplemented with photo-collage from the artistic youth of Ferents and his friends Attila Dunchak and Atanas Fedynets. Laid out in the show-cases were the albums, booklets and numerous publications about the artist. The exposition, represented in general more than 50 artist's works, will run until the end of March 2017.