Uzhhorod art studio "Nebo" presents the works of Eduard Prykhodko and Oleksii Fedor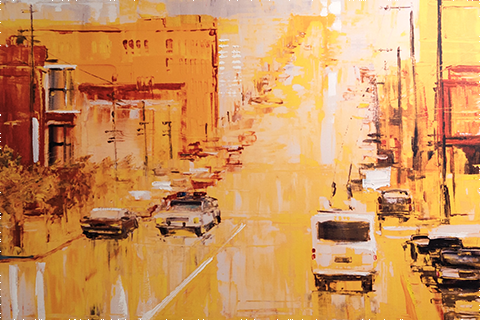 On 18 October 2017, the Uzhhorod Art Studio "Nebo" started an exhibition of works by Transcarpathian artists Eduard Prykhodko and Oleksii Fedor.
Both artists are engaged in drawing with children and even with the older age group - they teach drawing and painting in the art studio. With help of exhibition of their own works, they decided to introduce their creativity to the children, as they are convinced, that a teacher should not only teach but also show an example to be followed.
"Our students can see how their teachers work. It is interesting to work with children because we can learn from them. It is no wonder that the most difficult task is to remain a child in adulthood," Oleksii Fedor said.
The artists presented several of their works performed in recent years. In particular, here one can see the landscapes of Oleksii Fedor, made of oil and acrylic. The works of the author depict the streets of Uzhhorod and picturesque landscapes of Transcarpathia. Eduard Prykhodko showed his work on different subjects: there are both his famous horses and ancient lights, etc. The author used mixed techniques. All presented works are made in a realistic style.
Everyone who wants to watch the exhibition can do it until the end of November this year.
Photo: Nataliia Pavlyk