The first personal exhibition of Gabriel Gluck's wife in Tiachiv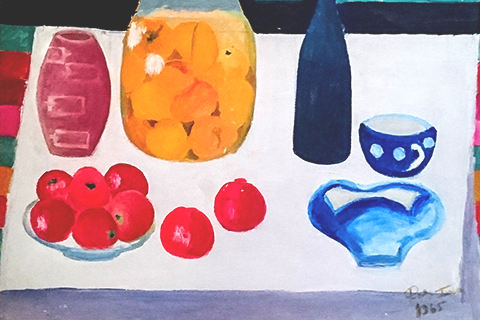 On 17 October 2017, it was opened a personal exhibition of paintings by Raisa Gluck (1913 - 1999) - the wife of the outstanding Transcarpathian painter Gabriel Gluck in the Tiachiv Gallery named after S. Hollosy.
The exhibition presented 43 paintings. According to the close relative of the artist Yosyp Homoki, these are the pictures of different creative periods - from 1965 to 1995.
"She began painting late, after her 50th birthday," Homoki said. - She did not have the art education, she mastered the basics of the painting by herself. And, of course, Gabriel Gluck himself was her main teacher and critic."
Yosyp Homoki said that Raisa never had personal exhibitions in her life - the above-mentioned exposition became the first one. She painted mostly still lifes - they are, in fact, represented in the Tiachiv Gallery. The canvases of Raisa depict colourful flowers, fruits and vegetables. The artist was able to see beauty in the usual everyday things. All works at the exhibition are painted with oil.
Yosyp Homoki also noted that the place of the exhibition was chosen not by chance, because Gabriel Gluck was born near Tiachiv, in Romanian Siget-Marmatius. This year admirers of the artist celebrate the 105th anniversary of his birth.
The organizers of the exhibition are his family and the Charitable Foundation named after Gabriel Gluck.
The exhibition of Raisa Gluck in the Tiachiv Gallery named after S. Hollosy will last within a month.
Text: Denys Fazekash
Photos are provided by the organizers of the exhibition.