Exhibition "Immersion"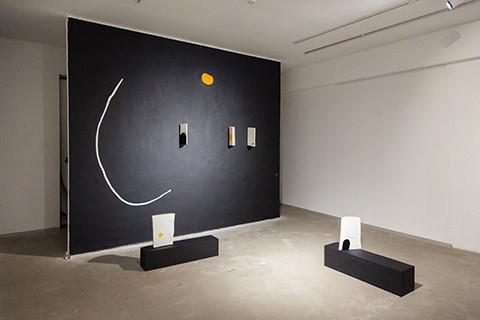 On 3 April 2019, at the Art Space Mironova Foundation (Kyiv), it was opened the collective exhibition "Immersion" of works of five young Ukrainian artists from Kyiv and Uzhhorod. Young Ukrainian artists – Yuliia Bieliaieva, Beata Korn, Anton Poperniak, Serhii Zapadnia, and Viktor Melnychuk presented paintings, sculptures, and art objects.
The impetus to the formation and the title of the exhibition was the work of the artist from Transcarpathia Viktor Melnychuk "Immersion Line". "The past and future are always unfocused," the artist thinks, – and clarity is present only in the current moment of existence, in which you need to plunge and make your own conscious choice."
The contemporary world with all its insane diversity offers many options for immersion. Political games, revolutions and wars, religious and anti-religious gatherings, struggle for rights, for place in society, business building, career, personal life, training, carnival, raves, and virtual reality. Choose your immersion, that particular and often artificial state of consciousness, in which self-awareness of yourself as a person decreases or is lost at all.
But there are things that are immersed in which we discover new forms and contents, the depths of the inner world and feel the inconceivable lightness of being that gives inspiration and adjusts to creativity. Sophisticated harmony of nature, re-thought in the art objects of Beata Korn and Serhii Zapadnia, fascinated by its unknowability of boundless depth in the painting of Viktor Melnychuk, love in the magical realism of the diptych of Anton Poperniak, searching for oneself, discovering new senses in the sculpture by Yuliia Bieliaieva. The project participants consider that these are the values that are worthy of endless immersion, are worth of art.
The exhibition will last until 23 April 2019.