"Christmas Exhibition"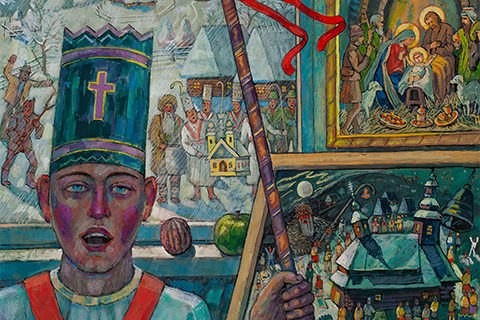 On 21 December 2018, at the gallery "Uzhhorod", it was opened "Christmas Exhibition" which traditionally from year to year represent the Transcarpathian artists to art admirers. All the works are devoted to winter theme as well as New Year and Christmas traditions and holidays.
In total, the exhibition presents more than six dozen works by 57 artists. Easel painting prevails here, but there are also ceramics, works of decorative and applied arts, and art painting on glass. Works amaze with a variety of techniques and styles that masters use to convey their vision.
Most of the works were provided by the member artists of the Transcarpathian Organization of the National Union of Artists of Ukraine, but this year the organizers decided not to limit themselves. Thus, individual young names are represented here as well. The head of the Transcarpathian branch of the Union Borys Kuzma noted: "Every time there are new trends, new themes, new perceptions, new submissions, a lot of different techniques, so there cannot be some constant, we have to change ourselves." He also said that at the last meeting of the board there was an initiative to introduce the award "The Best Artist of the Year" next year.
Presented were the works the following artists: S. Biba, A. Kopryva, M. Peter, V. Manailo-Prykhodko, N. Didyk, V. Habda, V. Mykyta, B. Kuzma, T. Usyk, P. Kovach, G. Buletsa, O. Hromovyi, B. Kuzma, M. Kinch, V. Churei, O. Skakandii, L. Slobodska, M. Mytryk, M. Pap-Malesh, O. Malesh, V. Slobodskyi, V. Myhoych, L. Pryimych, I. Demian, A. Moshkola, T. Dzhanaieva, V. Kinch, M. Hresko, Y. Bodnar, T. Danylych, V. Kuzma, L. Bokotei, P. Svaliavchyk, V. Filesh, V. Kohutych, I. Didyk, I. Lutsenko, T. Ivanytska, O. Fedor, E. Levadska, A. Kopyn, V. Vovchok, M. Suto, Y. Babynets, V. Svaliavchyk, S. Fedorova-Lukashuk, O. Kashshai, L. Pavlyshyn, Y. Yehorova-Rohova, T. Kohutych, N. Ovsiienko, N. Popova, O. Ulybina, I. Kopolovets, O. Minienko.
The People's Artist of Ukraine Volodymyr Mykyta congratulated all his colleagues on the opening of the exhibition and noted that 2018 was generous and fruitful year; there were a lot of exhibitions. This testifies, in the artist's opinion, the union team works seriously, but everyone should remember that one should not stop at what has been accomplished because time also does not stand still. "Therefore, I sincerely wish your energy and dynamics to never end!" Volodymyr Mykyta added.
The Christmas exhibition will last at least for two weeks at the gallery "Uzhhorod".
Photo: Nataliia Pavlyk