THE EXHIBITION OF STUDENTS OF THE CREATIVE YOUTH ASSOCIATION "SMALL LUVER" WAS OPENED IN ART-PRO GALLERY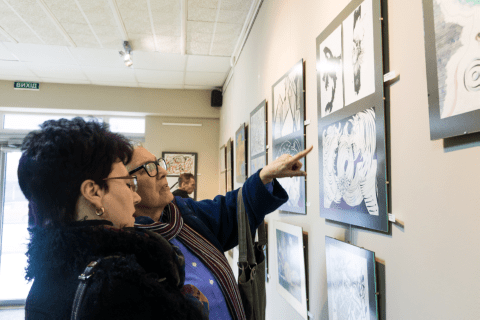 Association "Small Luver" is known far beyond Transcarpathia and raised the whole pleiad of young talents.
Since 2000 the founder, constant leader and lecturer of this unique art school has been a well-known Transcarpathian artist and pedagogue Emma Levadska. Firstly, it was an experimental studio under Regional Museum of Local History, which later was turned into a true centre of children's artistic creativity. For some time "Small Luver" worked within the Transcarpathian Regional Art Museum named after Y. Bokshai and now it is situated in the building of the Uzhhorod secondary school No. 3. The exhibition will run until March 16, 2017.
Photos Oksana Yurchenko