ALL COLOURS OF SPRING IN NEW SOLO EXHIBITION OF ODARKA DOLHOSH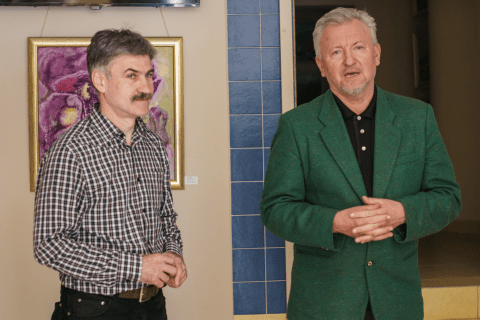 "Hello, April!" – the name of the solo painting exhibition of Odarka Dolhosh, opened recently in Uzhhorod, at "Art-pro" gallery. 
One can say with certainty that the work of the famous Transcarpathian artist has entered a new period. Earlier her paintings were full of restrained monochrome palette of colours, nostalgically lyrical mood with tinge of sorrow, and now her painting pulsates with cheerfulness, and blooms with all colours of spring. That is also borne out of the names of her paintings with plants and flowers, created in warm colours: "Good morning", "Life is beautiful when it's colour", "Flowered", "Saffron paradise", "Acrylic chords". A characteristic feature of creativity of Odarka Dolhosh is that she created the author's relief technique that combines painting with the plastic, and that her work is recognizable and authentic. The artist also works in easel, applied, plastic graphics, watercolours, and book design. Associate Professor, Ph.D. in art history, awarded the State Prize of Ukraine – "Order of Princess Olha" of the III degree. Two time laureate of the Regional Prize named after Y. Bokshai and A. Erdeli in fine art.
The exposition of the artist's works will last for the next two weeks.

Text: Oleksandr Nikitchuk   Photo: Oksana Yurchenko