UKRAINIAN-SLOVAK ART EXHIBITION IN UZHHOROD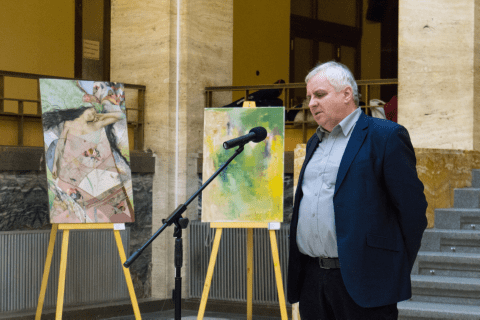 On 1 March 2017 in the hall-atrium of the Transcarpathian Regional State Administration, which often hosts various exhibitions, it was opened another one exhibition in the framework of the international project, supported by the grant from Norway in co-operation with Slovakia.
The slogans of this cultural and artistic project are "Co-operation across the borders", "Co-operation with mutual values". So, the exhibition, entitled "Partnership, sealed with clay" represented the creative camp of the Ukrainian and Slovak artists. Slovakia was represented by Michal Fric, who through the classic painting on canvas captures the balance between believability and illusion of life situations; Milan Ladyka, who works in the technique of coloured paper collage, combining the interest in colours and lines; Martyn Rosenberger of Levoca – ceramic artist, master of experimental approaches to work with porcelain; Pavol Rosko – adept of the underground and street arts who brings up social and environmental themes; Jana Stefankova – immersed in the world of emotional or intellectual actions; Peter Smik, passionate about ceramics and art glass in the chamber and monumental presentations. The Ukrainian participants are mainly lecturers of the Transcarpathian Academy of Arts, Uzhhorod College of Arts named after A. Erdeli, as well as students of these institutions. Against the background of the beautiful painting and ceramic works distinguished were those of Olena Derda – masterful textile collages, filled with romantic – sometimes lyric and decadent mood. The painting of landscape scenes of Viktor Derda and Vasyl Zymomria is generalized by the broad strokes, that is somehow restrained in Derda's works, and more pastose and contrast in Zymomria. Bohdana Syvokhop plays freely with colours on the canvas, and Natalia Didyk-Myronchuk skillfully arrange realistic stories with them. Until then, the exhibition has been already hosted by 10 cities of Slovakia. In Uzhhorod it will last until 9 March, and afterwards it will be presented in Kyiv.
Text: Mykhailo Syrokhman.  Photo: Oksana Yurchenko