"Silver Easel" participant Diana Faksh presented her debut exhibition in Kyiv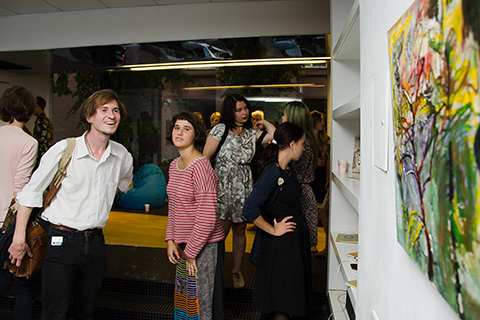 At the beginning of September, 2017 in the Kyiv art space "SKLO" it was opened a personal exhibition of Diana Faksh – participant of the 2nd All-Ukrainian Student Contest in Painting "Silver Easel". 
 The young artist became a laureate of the contest, receiving a special prize from the partner, the portal ArtsLooker – the opportunity to present her works in the separate exposition in one of the largest art galleries of the capital.
Her debut solo exhibition, presented in the art space "SKLO", is called "Alleged Landscape". The young artist presents a new series of paintings, most of which have been created specifically for this project. In addition, there are several paintings created over the past four years, and thus the viewer will be able to compare the works of the artists of different periods. Since my landscape was marked at the contest ("Silver Easel" – Author), I decided to try myself in this genre a little more. Therefore, in general, these are the landscapes that surrounded me this summer, but there are also a few old works," Diana Faksh noted.
In general, the exhibition presents more than 20 paintings. About the project itself and symbolism of its name the artist says: "Alleged Landscape" is a project in which I looked at the world around me with the eyes of a modern child... I did not try to depict specific or recognizable places. These are rather certain images and emotions, familiar to many of us and which surround us every day… "Alleged Landscape" is a playing landscape, not real. This is a game of the reality depicting, the way I felt it: childish, simple and easy."

The founder of the portal ArtsLooker Mykhailo Kyreito noted that holding such contest as "Silver Easel" is first and foremost an excellent opportunity to see the work of young artists. "During the contest, I stopped near the landscape, which I liked more, and only on the stage I found out that its author was a student from the National Academy of Fine Arts and Architecture – Diana Faksh. From our side, we will try to provide information promotion, so that as many people as possible learn about young artists, " the founder of the portal ArtsLooker Mykhailo Kyreito said.
Text and photo provided by ArtsLooker