"In memoriam" of Zoltan Sholtes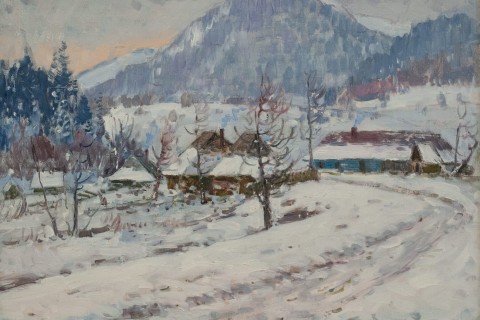 On 18 July 2019, the Transcarpathian Regional Art Museum received numerous guests at the opening of the exhibition dedicated to the 110th anniversary of the birth of the classic of the regional school of painting, Honoured Artist of Ukraine Zoltan Sholtes.
Four exhibition halls contain works by the artist, written in different periods, from the 40s to the 80s of the 20th century. The artist's son, famous painter Stepan Sholtes noted that the exposition was carefully formed, selecting works from many private collections and the museum's fund. Among the 90 works presented at the exhibition, two dozen works have never been exhibited before.
Art historian Liudmyla Biksei in her opening speech briefly gave an excursion into the difficult but creatively rich life of a talented artist, who is rightly called the "singer of the Carpathians".
The represented heritage of the artist is oil painting in a landscape genre, made in the best traditions of the Transcarpathian School of Painting. The viewer is also presented with some excellent watercolour sketches by the author. Art historian Mykhailo Syrokhman describes the artist's work as follows: "His canvases of the 1950s, 1960s are a luxurious plein-air series of states of nature, panoramas of mountains and villages, sublime luminous winter sceneries, the heyday of pure sonorous colour."
A Ph.D. in History of Arts, associate professor Viktor Shtets thoroughly learns the artist's creativity, he says: "Zoltan Sholtes is a born colourist, for whom it's important not the material plot, but the image inspired by this plot… We have a lot to learn from him. Zoltan Sholtes as a student of the founders of the Transcarpathian School of the image of Yosyp Bokshai and Adalbert Erdeli also passed on the accumulated experience to students. Little known is the fact that Zoltan Soltes, together with Shandor Petki and Anton Kashshai, conducted training plein-airs for students of the art studio at the invitation of its distinguished teacher Zoltan Bakoniia. This is very relevant in our time, for the development of Transcarpathian painting, the development of the artistic movement laid by the founders of the school, in all possible contemporary art forms. Because spirit, the energy of colour, form, and plastic that we see at this exhibition are important here. "
The opening day of the jubilee exhibition was attended by the Head of the Transcarpathian Regional State Administration Ihor Bondarenko, Mayor Bohdan Andriiv, representatives of diplomatic missions, cultural and art workers, as well as art lovers of the artist.
The exhibition will last until 18 August 2019.
Text: Liudmyla Kozlovska
Photo: Nataliia Pavlyk
© Art & Culture Foundation Brovdi Art