Personal exhibition of Vasyl Hudan in Vynohradiv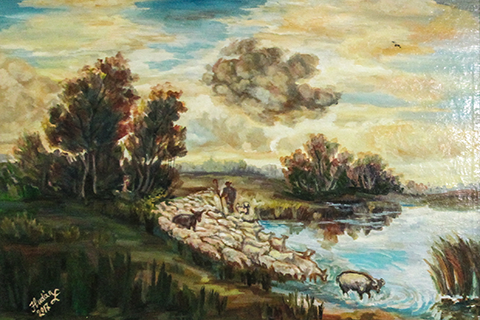 On September 15, 2017 in the exhibition hall "Impasto" in Transcarpathian Vynohradiv it was opened an exhibition of paintings of Vasyl Hudan.
The artist has repeatedly participated in collective exhibitions of members of the public association "Artistic Ugocsa", but this is the artist's first personal exhibition. The author presented 75 canvases for the visitors' review. Mostly the exhibition presents landscapes, still lifes, portraits, a small selection of paintings on sacred subjects. According to the artist, the exposition presents works performed mainly during last two years.
The exposition at first sight captures and immerses in the artist's inner world, reveals the essence of his creativity, wealth of thought-treasures, spiritual values and new creative finds. The palette of the artist's works is intense and built on the contrast of hot and cold colours.
Local artist Fedir Szilvashi at the opening of the exhibition noted: "They (works - Auth.) are a little bit naive, simple stories, but this is his vision. This is just like him. He depicts what fascinates and captures him the most."
Chairman of the public association "Artistic Ugocsa" Karlo Kerechanyn noted a peculiar style in the works of the artist: "The paintings emit a lot of light and warm. I am pleased that the city and region residents will finally be able to get acquainted and appreciate the painter's works."
The exhibition of Vasyl Hudan will last in the exhibition hall "Impasto" until October 15, 2017.
Text and photo: Olha Hal