Exhibition "The World of Pysanka"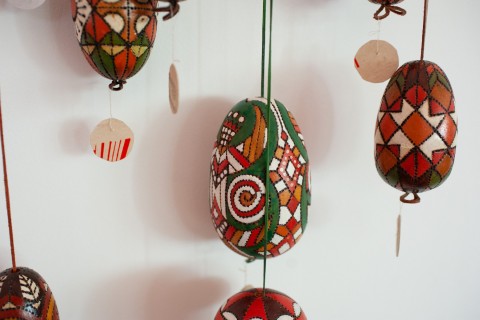 On 18 April 2019, in the Transcarpathian Regional Museum of Folk Architecture and Life, it was opened a unique exhibition-contest "The World of Pysanka", representing a rich and varied world of this kind of folk art of our region.
Almost fifty pysanka masters presented this time in the museum more than half a thousand pysankas made in various techniques inherent in Transcarpathia. In general, there are works created by traditional wax techniques, driapanka, ceramic and embroidered pysankas, pysanka from yarns, forged pysanka and pysanka from coloured glass, pysanka from paper, carving on an egg shell, etc.. The exposition is complemented by museum exhibits, including 210 pysanka and 50 patterns of folk fabric (towels, Easter napkins). Among the presented works, there are 20 unique ancient Pysankas from the museum's funds, which this year have been re-written by restorers.
The exhibition started five years ago by the director of the museum Vasyl Kotsan and art critic, teacher of the Transcarpathian Academy of Arts, Roman Pylyp, for five years turned into a powerful artistic event that most fully presents this kind of folk art. This year, the curator of the exposition was the head of the exhibition department of the museum Viktoriia Symkovych.
"The purpose of this exhibition is to popularize and develop the Pysanka traditions of Transcarpathia, to familiarize with the types of pysanka painting, to reproduce its authentic models, to attract attention to folk traditions and customs," said Roman Pylyp. According to him, each master, each pysanka, before getting into the contest, undergo a thorough selection, therefore the exhibition is truly unique, as a result, it focuses exclusively on highly artistic samples that are performed by traditional techniques.
"In addition, the exhibition also plays a cognitive role, because quite often people bring us unusual or just ancient pysanka! We practically every year learn about old masters who have still preserved the technique of our ancestors and create their own unique products. So, for example, thanks to this event, we learned about the masters from Tiachiv region, Perechyn region, and from Shalanky village…. One of them, by the way, still paws the raw goose eggs, which is extremely difficult!"- added Roman Pylyp.
The best exhibits were awarded prizes. Thus, in the nomination "Traditional Pysanka" the first place was taken by the driapanka, created by Mariia Babych, the second is the wax pysanka of Kristina Klis, the third – Olha Popovych.
The best in the nomination "Author's pysanka" was the wax painted pysanka of Viktoriia Vasiv, the second place for the wax painted pysanka had Nataliia Yanyshevska, the third - Liubov Shpak.
In the nomination "Innovative Solution", Olesia Rybalko won the first place for a pysanka of yarn, Andreia Pryslupska's ceramic pysanka won second place, and Tetiana Levlias's ceramic pysanka took third place.
The exhibition "The World of Pysanka" will last in the Transcarpathian Regional Museum of Folk Architecture and Life until 14 May 2019.
Photo: Nataliia Pavlyk
© Art & Culture Foundation Brovdi Art