"Boats" of Oleksii Fedor at Voto cafe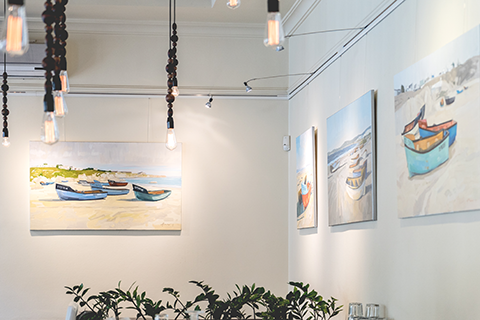 On 2 October 2017, at the Uzhhorod VOTO CAFE it was opened a solo exhibition "Boats" of the young artist Oleksii Fedor.
The young artist received his primary art education in the Uzhhorod College of Arts named after A. Erdeli, subsequently continued his studies at the Lviv National Academy of Arts at the Faculty of Interior Design. After graduating with honours in 2010, the artist began his pedagogical career. His own creative achievements Oleksii repeatedly demonstrated at the various exhibitions and contests.
The new exposition presents samples of oil painting, as well as works made with watercolour and gouache. All the paintings presented by the author were created in the late summer – beginning of autumn this year.  However, the artist works in other techniques as well.
The favourite Oleksii Fedor's theme is Transcarpathian landscapes. This time, as he himself admits, he wanted something new, so he came to the marine theme and boats.  Interestingly, that his first works with boats the artist created at the age of 19 – then Oleksii Fedor's boats floated in the sea and were looking for the right way. Today they are depicted on land, and it has a certain symbolism. The author explains: "Boat is the embodiment of life. It floats in the sea, and on its way it comes across the shores, reefs, it can get into a storm, or maybe in a calm. The same fate, the life path of a human. My boats are now on land as at this stage of life I have flown to a certain shore. "
The author plans to continue this theme in the future – it is not known where his boats will moor in the future. Oleksii Fedor notes: everyone can see something in his works, find a new meaning.
"Boats" at VOTO CAFE will be exhibited until the end of October 2017.
Text: Kseniia Shokina
Photo: Nataliia Pavlyk