IN SWITZERLAND, IT WAS HELD AN INTERNATIONAL SUMMER PLEIN AIR WITH THE PARTICIPATION OF UKRAINIAN ARTISTS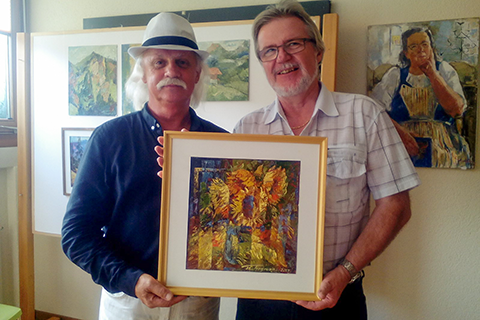 During July 22-29, 22-17, it was held the International Summer Art Plein Air in Switzerland. The plein air was held with the participation of Ukrainian artists - Yurii Bodnar (Uzhhorod), Iryna Kaliuzhna (Kharkiv), Anastasiia Hryhorieva (Kyiv), Nina Nikonenko (Dnipro).
For the fourth time the plein air is organized by the family of Theo and Olha Aegerter with the support of the church and village community. Olha, by the way, is a native of Transcarpathian Khust region, who has lived in Switzerland in recent years. The plein air took place in the alpine village of Auberville in the Simm river valley, on the basis of the Aegerter's family house. Participants of the creative event repeatedly became Transcarpathian artists.
During the plein air, Ukrainian artists had an opportunity to get acquainted with many cities in Switzerland and Austria, visited art galleries. Also visited the Lake Geneva, which unites three countries. It was here, on the shore of a picturesque pond, they had the opportunity to work near the town of Spiez. "In general, the plein air was very rich," commented Yurii Bodnar. – Despite the fact that there was little time, we managed to visit many cities, get an incredible mass of impressions! Beautiful mountains, natural places, cities, castles, architecture of ancient towns - it's all incredibly inspiring! I just wrote two portraits and seven sketches during this time and I think there will be enough impressions for many more works "
A certain number of works performed during the plein air, artists were given to the organizers, the majority was brought to Ukraine. At the same time, what is important, every year, part of the funds from the exhibition and sale after the plein air in Auberville, the Aegerter family sends to support orphans and affected families in Ukraine as a result of the Revolution of Dignity (2013 - 2014) and military operations in the east of Ukraine from 2014.
The following year, according to the preliminary plan of the organizers, will be an exhibition of works by all the participants who have participated in the Swiss open air for five years.