Exhibition "Magic of the region" by Zoltan Mychka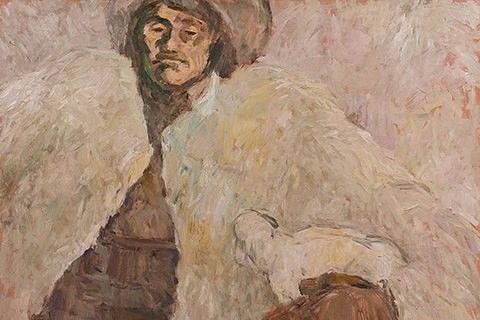 On 23 August 2018, in the Mukachevo Historical Museum "Palanok" it was opened an exhibition of People's artist of Ukraine Zoltan Mychka.
The personal retrospective exhibition of works of painting and graphic arts of People's artist Ukraine is titled "Magic of the region" and is timed to the birthday of the artist: 24 August he could have turned 69 years old...
The exposition consists of more than five dozen paintings by the artist. Here it was presented as famous works, and those that have not yet been seen by a wide range of art connoisseurs – works from the artist's family archive. Mostly, it is traditional Carpathian realistic landscapes, executed in a special style, inherent to People's artist. According to the daughter of the artist Yuliia Mychko, such an exhibition is the old dream of her father, which finally came true.
"During his lifetime he dreamed of organizing an exposition of his landscapes in his native Mukachevo, which he loved very much. He wanted to show who we are and where we come from, – the artist's daughter and the organizer of the exhibition told us. – When I look at the works of my father, I realize that our land, which is depicted on them, is beautiful and rich. Dad always said that you need to draw in such a way that you can immediately see that this is Transcarpathia with its special architecture, history, and colour. And, accordingly, he always sought to keep it in his works."
The exhibition was highly appreciated by the present art historians. "The current exhibition of the artist is about his region, the land where he was born and raised," said Ukrainian scientist, academician of the National Academy of Sciences of Ukraine Oleksandr Fedoruk. – It is not kind of happy one but from a number of those which witness a great talent and ability to formulate in a concrete a general, through the individual to see the numerical, from the tubes of paints to throw out his own joy or sorrow."
The presented paintings of the artist are made in oil, tempera, and acrylics. "The August exhibition of Zoltan Mychka in the hot year of this anxious 2018 is prophetic, it reflects the streams of a powerful talent, which deserves a nationwide respect, which we should all be proud of and through which we should educate ourselves," said Oleksandr Fedoruk.
The exposition "The Magic of the Region" in the Mukacheve Castle will last until 23 September 2018, thus everyone will be able to see the works of People's Artist of Ukraine Zoltan Mychko.
Text: Denys Fazekash
Photos provided by Yuliia Mychka
© Art & Culture Foundation Bovdi Art