IT WILL BE OPENED AN EXHIBITION OF UKRAINIAN UNDERGROUND FROM PRIVATE COLLECTIONS IN KYIV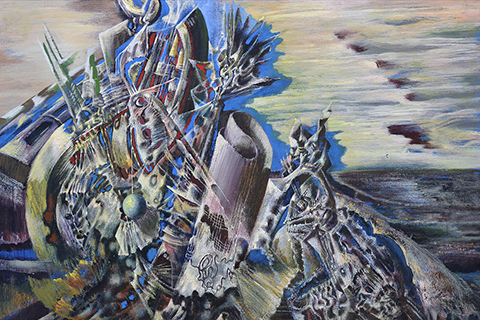 July 6, 2017 it will be opened an exhibition of works of Ukrainian artists - the Sixtiers in the auction house "Golden Section" (Kyiv, 4 Pervomaiskoho Str.). There will be presented the works of "informal academicians" from different regions of Ukraine (Kyiv, Odesa, Lviv, Uzhhorod).
Among the most famous underground artists there are Viktor Zaretskyi, Alla Horska, Ihor Hryhoriev, Serhii Paradzhanov, Hryhorii Havrylenko, Aleksa Zakharchuk, Fedir Tetianych, Oleksandr Dubovyk, Ernest Kotkov, Akym Levych, Roman Selskyi, Valentyn Khrushch, Stanislav Sychov and other iconic artists.
"In the Soviet countries the underground art differed from the Western one - it was imbued with the spirit of dissidence. Artists of the underground-those who refused to compromise with the authorities, which imposed on them only academic direction and ideological, agitational art. Therefore, all unofficial art, unrecognized by the authorities, was considered underground. Artists were forced to hide, conduct their "underground" creative and exhibition activities and, in spite of this, they did not change the freedom of their own spirit and left a considerable legacy of their incredibly advanced works of that time," the curator of the exhibition, co-owner of the auction house "Golden Section" Mykhailo Vasylenko says.
Within the framework of the exhibition project there will be presented paintings, graphics, as well as sculpture-more than 40 large iconic works from private collections. The basis of the exposition is the works of the 1960-1970s. The exhibition will last from 6 to 28 July. The entrance is free.