Jubilee exhibition of Ivan Romaniuk at the "Uzhhorod" gallery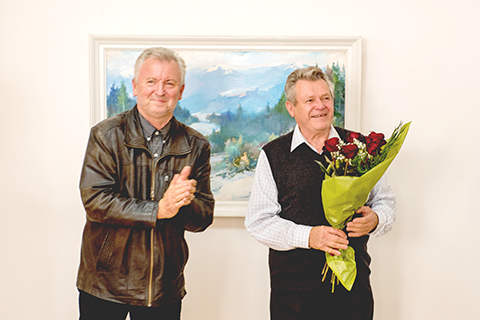 On 29 September 2017, in the premises of the "Uzhhorod" gallery it was opened a personal jubilee exhibition of Transcarpathian artist, who was born in Ivano – Frankivsk region, Ivan Romaniuk.
The artist works in the technique of oil painting. He presented to the audience 46 of his works performed during 2010-2017. Most of all the artist like the landscapes: "What else shall I paint in Transcarpathia? Water, mountains are all around– everything for the artist, and I like it. A portrait or still life can be painted in the studio, but when painting a landscape, you take pleasure from where you are and what you see."
The beauty of Transcarpathia gives space for creativity, thus in the works of Ivan Romaniuk one can see the nature of Perechyn, Turiia Poliana villages, but most of all he likes going to Syniak, Kolochava, Synevyrska Poliana villages.
In addition to landscapes, the exhibition also includes still lifes, and the artist created portraits as well. "I painted portraits, but to each his own – I prefer landscapes. I like working on still life, especially – to depict flowers, but I always return to the landscape. I really enjoy it."
It is important for the artist to execute the picture qualitatively, not to overload it with superfluous elements, because, as he himself admits, he shares the opinion of Leonardo da Vinci: one needs to feel when the work is done. "If the work is overladen, then paints are fading. One should try doing it as quickly as possible, not to add any extras, and not to black out the paints."
The exhibition of works in the gallery "Uzhhorod" will continue until 11 October 2017.
Text: Kseniia Shokina
Photo: Robert Dovganych