A Collective Exhibition of Transcarpathian Artists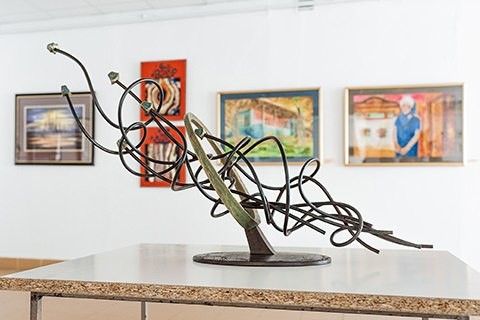 On 4 October 2018, a traditional regional exhibition of artworks of the Transcarpathian artists was opened at the gallery "Uzhhorod". In total, presented were about 60 works – graphics and works of decorative and applied arts.
The exhibition is timed to Artist's Day. In general, it is a part of the powerful presentation of the artistic potential of Transcarpathia on the occasion of a professional holiday. The second part of the exposition – painting and sculpture – was presented at the Transcarpathian Regional Art Museum named after Y. Bokshai.
The authors from the whole Transcarpathian region presented graphics and works of applied and decorative arts. The diversity of styles, technique and texture is really impressive. Here are samples of ceramics, carvings, watercolours, pastels, mixed and author's techniques.
As the Head of the Transcarpathian branch of the National Union of Artists of Ukraine Borys Kuzma told, they selected works according to the following criteria: exposition, colour decision, novelty. One could see here the works of both well-known Transcarpathian authors – members of the Transcarpathian Organization of the National Union of Artists of Ukraine, and young ones – students, beginners. "A lot of young authors took part in it. We invite them in order to show what we have for today. Thus, we can see what they are engaged in now, in which direction they are developing. It turned out to be very colourful, informative. In general, the exhibition, in my opinion, is very illustrative and wonderful."
In particular, the following artists presented their works: P. Khodanych, M. Rosul, N. Kovach, V. Myhovych, V. Pavlyshyn, V. Kuzma, V. Vinkovskyi, M. Dzys-Voinarovskyi, D. Kovach, V. Makarovych, L. Ulybina, E. Myronchuk, O. Minienko, V. Tymko, I. Klisa, V. Pal, O. Zhitov, I. Kopolovets, O. Sopilniak, L. Korzh-Radko, O. Derda, V. Kinch, O. Dolhosh, O. Vorobei, V. Skakandii, I. Didyk, O. Kondratiuk, V. Filesh, M. Pap-Malesh, I. Slyvka, I. Zhupan, A. Vorobei, A. Mondych, V. Sochka, A. Mukhomedianov, Y. Dykun, O. Dovhanych, N. Kovchar, T. Kopanskyi, O. Lypchei, V. Manailo-Prykhodko, A. Moshkola, I. Prokopenko, K. Slyvka, A. Toderiuk, and S. Tsap.
According to the results of the exhibition, there will be determined the laureates of the Regional Prize named after Y. Bokshai and A. Erdeli.
The exhibition at the "Uzhhorod" gallery will last at least two weeks.
Photo: Nataliia Pavlyk
© Art & Culture foundation Brovdi Art