Still Lifes of Transcarpathian Artists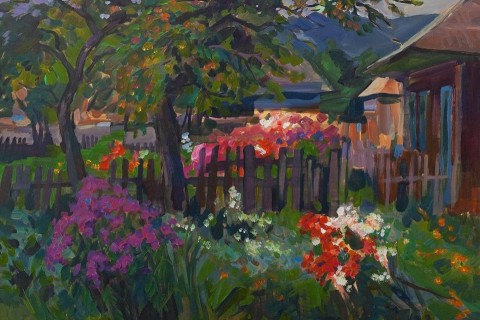 On 22 June 2018, in the gallery "Uzhhorod" it was opened the exhibition of one of the most interesting genres of painting – still life. This is a collective exhibition of members of the National Union of Artists of Ukraine, under the title "Flower Paradise".
The exhibition presents both painting and graphics. Among the paintings are the works of People's artists of Ukraine Volodymyr Mykyta, Borys Kuzma and Vasyl Svaliavchyk, as well as other famous Transcarpathian artists – Vlad Habda, Taras Usyk, Vitalii Slobodskyi, Ivan and Nadiia Didyk, Vasyl Vovchok, Liudmyla Korzh-Radko, Andreia Pavuk, Yosyp Babynets, Nataliia Sima-Pavlyshyn, Olena Kondratiuk, Yuliia Yehorova-Rohova and other.
"The still lifes are different in style, but they all have one theme – flowers. We are organizing something like this for the first time. This decision is rather spontaneous, and not earlier planned, – said the artist, director of the gallery "Uzhhorod" Miklos Suto. – Let's see what will be feedback on the exhibition, and if visitors like it, then we will collect such exhibitions more often, we will make them traditional."
According to the director of the gallery, still life – at the same time a simple and complex kind of painting. "Not everyone loves it, nevertheless, it is popular," he said. – It can be different – with excellent content and objects. And the exposition "Flower Paradise" proves this."
His opinion is shared by other authors of the exhibition. "Still life is a very interesting genre," said the Honoured Artist of Ukraine Ivan Didyk. – At all times, the artists turned to it. To someone, it may seem very simple, but on the other hand it is complex as any self-sufficient work that requires a balanced use of colours, details, forms."
The presented still-lifes are made with different techniques – oil, tempera and even watercolour, there is also a unique experimental mixture from Vlad Habda.
The exhibition of still lifes will last in the gallery "Uzhhorod" until 6 July.
Text: Denys Fazekash
Photo: Nataliia Pavlyk
© Art & Culture Foundation