"Easter Exhibition"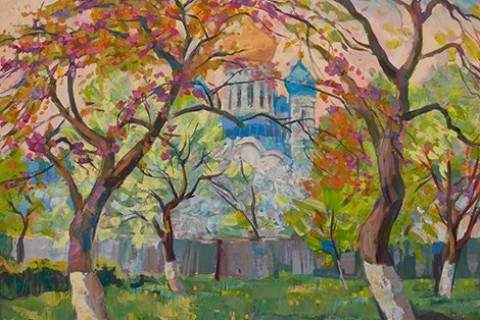 On 19 April 2019, in the gallery "Uzhhorod" it was opened an exhibition of works by members of the Transcarpathian organization of the National Union of Artists of Ukraine and a youth association of the organization. The overwhelming majority of the presented works is united by the theme of the bright holiday of the Resurrection of Christ, although there are also works that speak of spring, awakening, and renewal of all living things.
28 Transcarpathian masters of the brush, among them academicians, people artists, honoured, and young artists, presented almost four dozen works. The variety of styles and techniques, rich colour palette, a unique vision of each author transfer the viewer to the Easter day, create the unique mood that arises in everyone only during these holidays. The genre covers the landscape, still life, scenes of religious content, figurative, etc. Everyone will find here something to their liking.
As the artist Miklos Suto noted, this exhibition has already become traditional for Transcarpathia, because it is being opened for the fifth time in a row.
There were works of the following artists: Lesia Ulybina, Emma Levadska, Eduard Prykhodko, Olena Kondratiuk, Vasyl Vovchok, Vasyl Filesh, Mariia Turianytsia, Odarka Dolhosh, Borys Kuzma, Taras Danylych, Yurii Bodnar, Liudmyla Korzh-Radko, Olha Kashshai, Atilla Kopryva, Vlad Habda, Ihor Lutsenko, Taras Usyk, Myroskav Hresko, Volodymyr Mykyta, Serhii Biba, Vasyl Bobita, Yurii Shelevytskyi, Yuliia Yehorova-Rohova, Oleksandr Andialoshi, Anhelina Hafynets, Pavlo Kovach, Viktor Chepynets, Liubov Pavlyshyn, Miklos Suto, and Vasyl Svaliavchyk. Myroslava Rosul's sculpture was presented in the exposition as well.
The "Easter Exhibition" will last until 7 May 2018.
© Art & Culture Foundation Brovdi Art