Personal exhibition of Yaroslava Katran in Berehove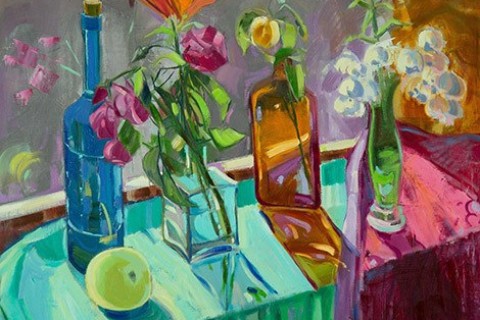 On 26 July 2018, in the City House of Culture in Berehove, it was opened a solo exhibition of a young artist Yaroslava Katran. The exposition is titled "Flower Symphony".
Yaroslava Katran was born in 1993 in Mizhhiria region. She is a member of the Youth Union of the National Union of Artists of Ukraine and recently graduated from the Transcarpathian Academy of Arts in the speciality "painting". In 2016, she was a participant of regional exhibitions, all-Ukrainian, and international plein air.
In the exhibition, presented in Berehove, about thirty works written in oil on canvas and cardboard. All works, according to the artist, are plein air's, written from nature in different years, from 2012 until today.
"The idea of a thematic exhibition arose long ago, while her studying," Yaroslava admitted. – But right now there was an opportunity to realize it. I often write flowers: from the beginning of spring and until the autumn they are one of the main themes in my creativity."
Among the genres there is still life, landscape and a series of sketches. The creative manner of the artist differs with wide, confident strokes, a subtle sense of colour, skilful transmission of chiaroscuro.
"In carrying out these works, I felt the calmness and admiration that I wanted to convey to the viewer," the young artist remarked. – I tried to pay attention to how important it is to be able to see the beautiful in ordinary things and how positively it can affect a person. Also, this exhibition is a kind of result for me, a rethinking that will help to understand how to develop my creativity further, in what direction to move."
The "Flower Symphony" exhibition in the Berehovo will last until 10 August 2018.
Text: Denys Fazekash
Photos provided by Yaroslava Katran
© Art & Culture Foundation Brovdi Art