Exhibition by the Tiachiv artists at "Palanok" gallery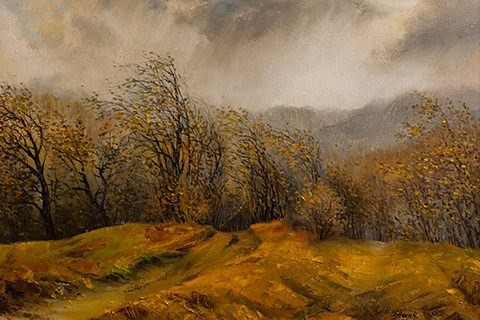 On 12 July 2018, at the gallery of the Mukachevo Castle "Palanok", it was opened a creative exhibition of representatives of the public association "Artists of Tiachiv region". In total, the exposition contains about four dozen works, including paintings, graphics, and woodcarving.
The range of artists' interests is extremely wide. Thus, the canvases of Nadiia Popovych, Yana Mahei, Mykola Vlada, Mykhailo Furman, Mariia Filip (Maior) reveal the beauty of nature of the Transcarpathian region, local colour and portraits in the wide palette of colours, tones and halftones. Presented at the exhibition are also graphic works by Kristina Cherevko.
The woodcarving is represented by the artist Yurii Tsyrkunyk. According to the initiator of the exposition – a talented Tiachiv artist, teacher of the local art school Nadiia Popovych, they wanted to show the creativity of Tiachiv artists to Mukachevo citizens and tourists who visit the castle.
As an artist, art critic Attila Kopryva noted at the opening of the exhibition, he was very pleased that the region is developing art. "It is very pleasant that society is not limited to painting alone or to a single line. The artists are diverse and each has its own vision. Speaking specifically about this exposition, it can be noted that among the presented artists some adhere to a realistic or classical school, others are looking for themselves in decorative forms, explore folk art. In general, I wish them to get back to our roots more because Tiachiv region is very rich and diverse in folk colour as well as in masters of the applied art. So, we should remember it and draw from the source of that pure water, create our own contemporary things."
The exhibition of Tiachiv artists will last until 29 July.
Text: Nataliia Petervari
Photo: Nataliia Pavlyk
© Art & Culture Foundation Brovdi Art