"Silent Art"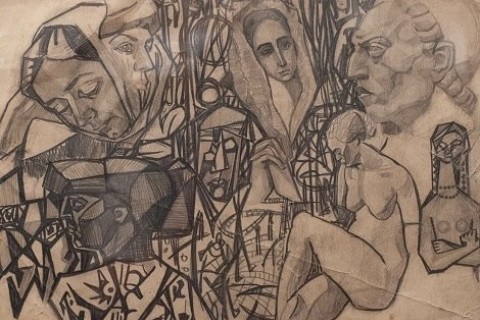 On 22 February 2019, at the ILKO gallery (Uzhhorod) it was opened the exhibition of the drawings of the outstanding artists of the Transcarpathian School. It is here that the viewer discovers in a new perspective the creativity of artists who are well known to the public for their paintings.
The author's idea of the exhibition belongs to the artist, gallery owner Mykhailo Ilko, and its title "Silent Art" accurately characterizes the drawing as a kind of image that cannot be blatantly colourful, but it can become extremely expressive and brilliantly talented. The drawing is a certain beginning, the basis of the foundations of fine art. And in the artist's creativity, even a draft drawing can claim self-sufficiency as a complete graphics work.
The exhibition presents drawings by Adalbert Erdeli, Gabriel Gluck, Yelyzaveta Kremnytska, Pavlo Bedzir, Ivan Ilko, Pavlo Kovach, Liudmyla Korzh-Radko, Vasyl Skakandii, and Bohdan Korzh.
At first glance, an exhibition, which is consistent in a single style, is an impression of the consonance of works, but in reality, this is a platform for the collision of completely different, incompatible things – how much each author is individual in his creative manner. Simple and accessible to everyone strokes, lines in the hands of masters turn into eloquent images, in which the characteristic author's handwriting can be traced.
A special place in the exhibition is dedicated to the works of two outstanding artists – Liza Kremnytska and Liudmyla Korzh-Radko. The combined works of artists on one plane is a reflection of two completely different epochs: a clearly structured nature of one and a filigree drawing-story of another. And the thing is not so much in the difference of techniques and manners of execution, as in the observation of changes in the force of external influence on the female essence.
The drawing is considered an unpretentious type of art, because it could be depicted on anything, starting from the walls in the caves and ending with napkins. An artist, instantly capturing the moment and spark of inspiration can turn anything into a masterpiece. Here, in this collection are presented works, talentedly executed with pencil, charcoal, ink, liner on pieces of paper, cardboard, newspaper, and even perforated tape.
The cosy atmosphere of the gallery only enhances the sound of the exposition – "Silent Art", and the viewer, enjoying unique works, will certainly feel it.
The exhibition will last for a month.
Text: Liudmyla Kozlovska
Photo: Nataliia Pavlyk
© Art & Culture Foundation Brovdi Art