Personal exhibition of Taras Usyk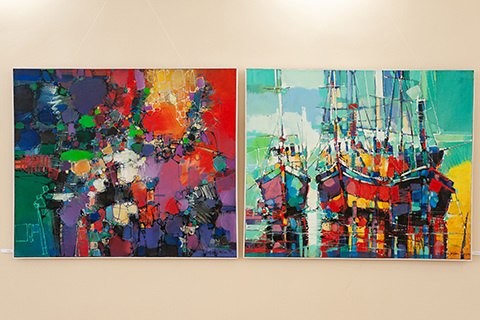 On 2 November 2018, in the exhibition halls of the Transcarpathian Regional Museum of Folk Architecture and Life, Taras Usyk, an architect, painter, member of the National Union of Artists of Ukraine, presented his personal exhibition of paintings and graphics. The exhibition is timed to the artist's birthday – he just turned 60 years old.
Taras Usyk – the artist of the second generation, son of the famous Transcarpathian painter Stepan Usyk. He is an artist-architect by education, but painting plays the main role in his life. The artist creates beautiful canvases, which, according to the definitions of art historians, are distinguished by a unique rhythm of movement of the painting planes, characteristic polyphony and monochromatic wave, multicolour and asceticism.
The current personal exhibition of the artist, timed to his anniversary, presents about 50 canvases. According to the author, the exhibition was being planned for a long time, however, it turned out that almost 90% of the presented works are new, created within the last year.
The themes touched upon by Taras Usyk in his creativity are eternal – nature, architecture, and woman. The artist says that the surrounding beauty always inspires him, women fascinate him, and his hometown is the centre of his universe. "Our nature is incredible! Moreover, the town is the most beautiful in the world! I draw it from memory, close my eyes – and I see every corner of it, I remember how many steps and windows are in every house… I paint women because I love them very much. And the viewers will judge everything I created," the artist says.
Numerous guests, colleagues came to congratulate the artist on the occasion of the anniversary exhibition. The head of the Transcarpathian branch of the National Union of Artists of Ukraine Borys Kuzma awarded Taras with a diploma on behalf of the Head of the Transcarpathian Regional State Administration Hennadii Moskal.
People's Artist of Ukraine Volodymyr Mykyta, who has known Taras Usyk since his childhood, congratulated him as well: "Each his work has its own purpose and concept and each has its own style. Colour, harmony – everything is in place. There are no repetitions here! He sets forth his thoughts easily. He is relaxed in a special colour dynamics and this is very good! If I live to his next anniversary, I believe that he will surprise me as much as he does now. "
Exhibition of Taras Usyk will last for two weeks.
Photo: Nataliia Pavlyk
© Art & Culture Foundation BrovdiArt