"The Light in You" by Mykola Strus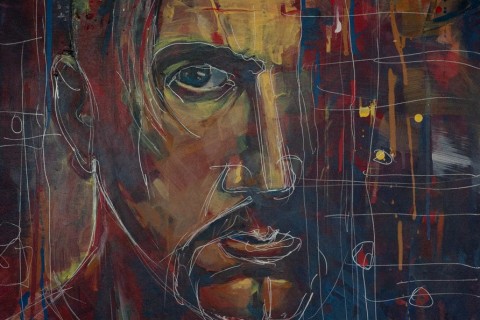 The smell of paint and leather – this is exactly how the exhibition of the Lviv artist Mykola Strus "The Light in You" meets the audience. It was presented on 5 June 2019, in the Transcarpathian Museum of Folk Architecture and Life.
New so far unprecedented technique of painting on leather causes genuine interest among the public. There are portraits depicting Salvador Dali, Taras Shevchenko, Kacey Cisyk, Lina Kostenko, Andrii Kuzmenko (Kuzma), Vasyl Stus, John Lennon, Oleh Sentsov, Volodymyr Ivasiuk, Vasyl Slipak, and other outstanding and distinguished personalities of Ukraine and the world.
Mykola Strus says: "I like the people I paint. Each portrait has its own story, its own emotion."
The title of the exhibition "The Light in You" is connected with the fact that without words it will tell about each person – these are eyes. "Through them, everything is visible – the whole essence of man, they characterize it, it's not for nothing that the eyes are called the mirror of the soul" – the artist explains.
Indeed, every view here is multi-valued and true, because the author pays special attention to this: "I look at different portraits of the person I want to portray, I look for a common, I want to convey the character in sight," Mykola explains.
In general, the exposition has more than 40 portraits, on which Mykola Strus worked for about a year. As he admits, the most important thing was to find such a combination of paints that would stick to leather and not collapse with time, because the paint in his first works cracked and crumbled.
"I have still lifes, landscapes, abstract compositions on canvas, I work with acrylics, oil, but still the paintings on leather are very interesting. Many did not believe that painting could be done on leather. I searched on the Internet, if someone does something similar – and I did not find. There is no painting," – the artist says.
Mykola Strus has his own handwriting. However, on creativity, he is inspired by Salvador Dali. The author of the exhibition successfully manipulates the colour, adds a lot of colours, combines bright colours – thanks to this, the paintings seem warm and voluminous. And on many of them, after a closer look, you can see the texture: intentionally stitching leather shreds with coarse threads.
He admits that special for him is a portrait of Kuzma Skriabin. I am ready to give this portrait only to the singer's parents.
The author portrays not just iconic personalities, but also reacts to socially important events: the Revolution of Dignity, Russia's military aggression in the Donbass, and political imprisonment.
There are already a lot of portraits in the future plans. These are series of works, and individual persons, such as Stepan Bandera and Ada Rohovtseva. The exhibition will last until 19 June 2019 and then go to Germany and Austria.
Text: Kseniia Shokina
Photo: Nataliia Pavlyk
© Art & Culture Foundation Brovdi Art