"Subjective Reality" by Ivan Manailo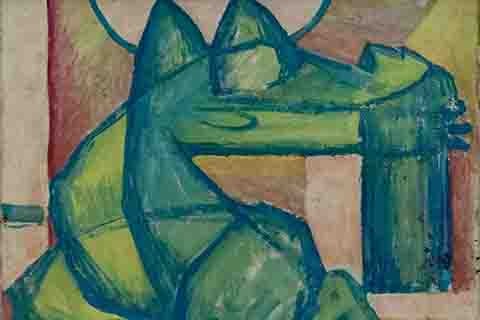 On 12 January 2018, in the Transcarpathian Regional Art Museum named after. Y. Bokshai, it was opened a retrospective exhibition of works by the famous Transcarpathian artist Ivan Manailo. The exposition is called "Subjective Reality".
Ivan Manailo (1942 - 2010) – the son of one of the founders of the Transcarpathian school of painting, People's artist of Ukraine Fedir Manailo. He worked as a teacher and director of the Uzhhorod Art School, as an artist in the Transcarpathian Art Fund. He was one of the organizers and leaders of the Creative Association of Professional Artists of Transcarpathia.
The exhibition presents more than 70 works of the artists of different periods, including "Still Life" of 1961, demonstrated at his first exhibition of three artists (I. Manailo, V. Prykhodko and F. Seman) in 1961, and the last works created in 2010.
The selection, presented to the visitors, included both painting and graphic works. They are executed by different techniques: oil painting, acrylic painting, tempera, gouache, a mixed technique using relief pastes, graphic arts techniques, lithography, coal, pencil, watercolour and others. There are works painted on unusual material: iron grating, polystyrene foam, or made with unusual decorative elements: bent wire and fabric. Such a variety of techniques indicates the artist's creative nature, an unceasing interest in the very process of creativity, the search for new forms of education.
"Ivan Manailo is an artist – experimentalist," said his daughter, one of the organizers of the exhibition, an artist, art historian Viktoriia Manailo-Prykhodko, he enthusiastically discovered new materials, techniques and new opportunities for the implementation of his creative ideas. Ivan Manailo, notwithstanding the established assertion about the necessity of observing the author's style, worked in a realistic manner. He also liked the search for his own interpretation of various modern directions. Among the exhibits, one can see cubism, expressionism, impressionism or fauvism, realistic or decorative painting language … At the same time, all the works of the artist are united by the extraordinary emotionality, openness and self-sufficient conciseness. This is a unique and original artist, not like others. His creativity, without a doubt, is a vivid page in the history of fine art in Transcarpathia."
According to Viktoriia Manailo-Prykhodko, it was this retrospective exposition that the artist's family decided to remind art lovers of Ivan Manailo. "More than ten years he lived and worked abroad. It's been 8 years since he died, that is, during twenty years the Transcarpathians have not seen his masterpieces. In addition, in such a format – a concentrate of creative retrospection – the exhibition is held for the first time," the art critic noted.
All paintings presented at the exhibition are from private collections. Most of the works are presented to the public for the first time. The exhibition will last until January 25.


Text: Denys Fazekash
Phoro: Nataliia Pavlyk, Nataliia Bodnar