Lovrant Bokotei's "Memories" at the Transcarpathian Art Museum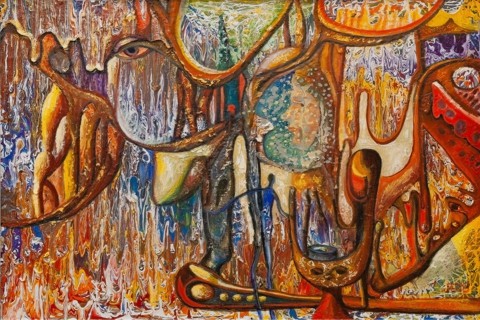 On 24 May, at the exhibition hall of the Transcarpathian Regional Art Museum named after. Y. Bokshai, it was opened a personal exhibition of the member of the National Union of Artists of Ukraine Lovrant Bokotei. The exposition is called "Memories".
The exhibition is devoted to the 75th anniversary of the artist – an avant-garde artist and sculptor. It contains pictures of different periods of creativity of the author, starting from the distant 1964. The exposition is also complemented by wooden sculptures.
Lovrant Bokotei's paintings are made in the author's creative style, formed under the influence of impressionism and surrealism: "The works are not similar to the Transcarpathian school of painting, more to French. This is a synthesis of numerous currents moving to an individual style. I am in a constant search, so to speak, a perpetual student. All works are executed in my own author's technique. I use paint only. It has its own energy. This exhibition is a cross-section of my creativity for 75 years. It is difficult to perceive. It is very individual. The works are complex, somewhat magical and not open to everyone."
Olena Prykhodko, an art critic, curator of the exhibition: "The author called the exhibition 'Memories' and he really has something to recall, let's say, for 50 years of his life in art. The artist has an extremely developed artistic intuition because he can even foresee the events. He is inspired and admired by all that surrounds him. Therefore, his works are amazingly interwoven, arguing, living in harmony. Very different: real images, invented and fantasied images. He tries to master all styles and directions. In his works, we can meet both romanticism and real images, but surrealistic ones prevail."
Olena also noted: "These works are not for contemplation, not for calmness. They make people worry, they vibrate, invite to dialogue. Because every spectator will find his or her own emotions and experiences in each of the works."
In general, the works of the artist can be found in private and museum collections of the USA, England, Turkey, Hungary, Romania, Norway, Canada, Egypt, Russia, and Ukraine.
Exhibition "Memories" at Transcarpathian Regional Art Museum named after Y. Bokshai will last at least for 2 weeks.
Text: Alona Onda
Photo: Nataliia Pavlyk
© Art & Culture foundation Brovdi Art