PROFESSIONAL AND AMATEUR ARTISTS PRESENTED THE JOINT PLEIN AIR EXHIBITION IN UZHHOROD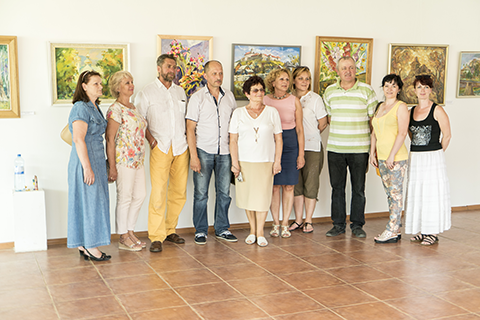 On June 30, 2017 in the Transcarpathian Regional Museum of Folk Architecture and Life in Uzhhorod it was opened an exhibition of paintings by amateur and professional artists of the region. The exhibition of works is dedicated to the Constitution Day of Ukraine. It will last two weeks.
At the exhibition of works written during the spring plein air "Uzhhorod May", almost 50 works of artists from the main districts of the Transcarpathian region are presented. The works were mainly written during the traditional plein air, which is conducted for several years by the Regional Organizational and Methodological Centre of Culture. "The peculiarity of such plein airs is that well-known artists work together, for example, this year Oleksandr Sydoruk, Vasyl Vovchok, Olena Kondratiuk, Liudmyla Borshosh, Emma Levadska, and amateurs,"- the centre's methodologist Volodymyr Myshanych said. – Beginners in art can turn to professionals, ask them to be shown something, consult, and such a creative atmosphere, live communication is extremely helpful. And, this is usually an incentive for further work."
Usually, during such plein airs, nobody restricts the themes of the authors, although in principal the general direction is defined-this is the native land, Ukraine, Transcarpathia through the centuries. Actually this explains the diversity of the presented works-landscapes, still lifes, cityscapes and a whole series of graphics.
Some authors during the exhibition were presented for the first time, for example, Marta Tsuha and Yurii Vyihesh. "The purpose of these plein airs and exhibitions is to promote creativity and amateur artists, because, believe me, they are not always able to organize personal exhibitions not that at the regional level, but even on the local. Therefore, we want to support them, especially those who work, develop, - the director of the centre Hanna Drohalchuk said during the opening.       
Their works at the exhibition presented Emma Levadska, Tetiana Sopilniak, Oleksandr Sydoruk, Andreia Pavuk, Viktor Andrianov, Viktor Hrabar, Anton Sekeresh, Yurii Vyihesh, Mahdalyna Berezanych, Ivan Stehura, Marta Tsuha, Nataliia Rybar, Iryna Popdiakunyk, Liubov Shpak, Olha Hal, Arkadii Mukhomedianov, Yurii Mushak, Liudmyla Borshosh, Nadiia Matiko, Luidmyla Hychko-Korol.
Text: Nataliia Petervari Photo: Nataliia Pavlyk