SERHII LAKATOSH PRESENTED PERSONAL EXHIBITION IN UZHHOROD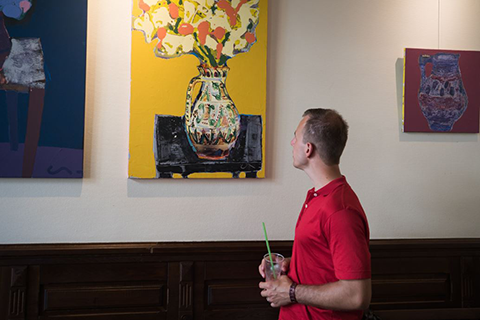 On August 1, 2017 an artist Serhii Lakatosh presented his debut personal exhibition in Uzhhorod Art Cafe "Voto". 12 still lifes are united by one name – "Colour". According to the author, this is an exclusive series of works, painted specially for the exhibition.
"It was a special idea," the author told during the opening of the exposition. – I was offered to make my first personal exhibition and I decided to implement the idea in this way. During the month I painted more than a dozen works of one subject, all of them depicted a vase of flowers, it is generally one of my favourite topics."
Although the paintings are on the same subject, each work is individual, original in colour and technical execution. "I like to experiment in creativity, without it I cannot imagine myself," Serhii Lakatosh admitted. – All works are done with acrylic, but with the addition of various elements. For example, in work "Contrast" I used photo collages. I also used other groundworks in backgrounds, spots."
Among the canvases presented at the exhibition, there are abstractions. "My paintings are somewhere realistic and somewhere they reach a complete abstraction," the artist explained. – Any form, the abstracted object follows from realistic things."
All the works are from his own collection and have not been shown anywhere yet. It is Serhii's debut solo exhibition. Earlier, the artist participated in all-Ukrainian and regional collective exhibitions. In March 2016, together with other Transcarpathian artists he presented his works at the exhibition in Germany, in November 2016 - in Hungary. The exhibition "Colour" in Uzhhorod will continue until September 1, 2017.
Text: Denys Fazekash Photo: Nataliia Pavlyk