"Silver Land" of Serhii Lakatosh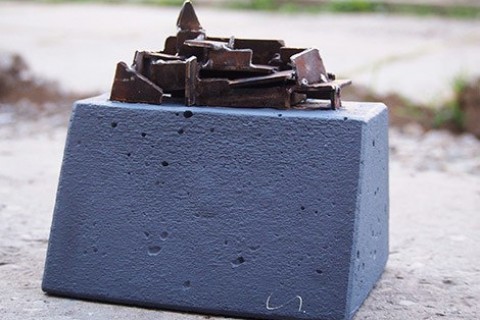 On 20 September 2018, the member of the Youth Organization of the Regional Branch of the National Union of Artists of Ukraine Serhii Lakatosh presented a solo exhibition under the title "Silver Land" in Mukachevo. The exposition presents eight paintings and two sculptures.
This is the second personal exhibition of the artist, the first one was held at the beginning of the year at the Uzhhorod Art Cafe Voto. According to the artist, current exposition is a chamber one, it consists of a relatively small number of works, but the artist intended it so.
"The idea of the exhibition is simple – I've long planned the exposition in Mukachevo dedicated exclusively to my native town. But I planned to organize it in special conditions, chamber ones, not in spacious halls. So, I was looking for a place that would suit the idea for a long time. Finally, when I found it, I talked with the owners and thus we organized the exposition," the artist said.
All the works were created exclusively for the exhibition. The artist was working on them for a month or two – it was not that long, as the idea had been ready.
Serhii's works depict Mukachevo architecture, town sceneries. The colour palette was specially chosen by the artist – silvery light grey tones corresponding to the theme of the exhibition. Paintings are performed in acrylic on canvas.
"This is a kind of fresh conclusion from the experience, this is a new look at Mukachevo," S. Lakatosh added.
The exhibition will last for a month, until 20 October 2018.
Photo: Nataliia Pavlyk